Since the first lithium batteries were made commercially available in 1991, they overcame the key pain points associated with lead-acid batteries, namely, shallow depth of discharge, high maintenance, slow charge times, and short lifespans. There have since been unprecedented breakthroughs in lithium battery system technologies - from software to temperature regulation. First launched in 2019, RELiON's InSight Battery Series has successfully incorporated the latest advancements in lithium batteries to enable you to power your golf cart, utility vehicle, or automated guided vehicle (AGV) and more with greater power, efficiency, and safety. Below we will cover RELiON's brand new InSight 24V-LT and InSight 48V-LT batteries, what makes them superior to other lithium battery options on the market, and what applications they are optimized for.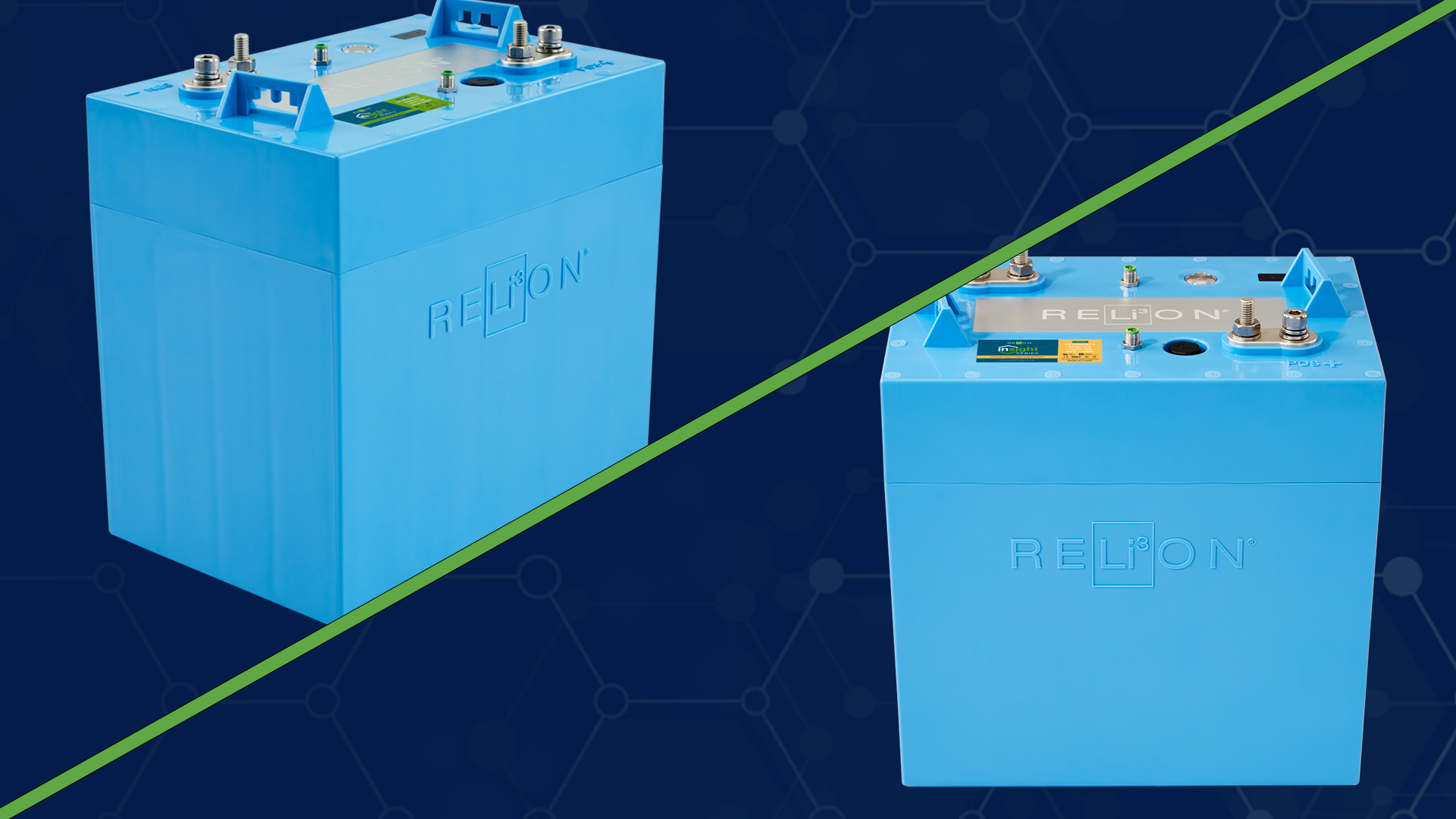 Overview: New InSight 24V-LT and InSight 48V-LT
These batteries come packed with the same advanced features as the original InSight 24V and the InSight 48V batteries but with the added LT (or low temperature) capabilities. Unlike most lithium batteries on the market, these batteries can charge at temperatures as low as -20°C (-4°F). Both batteries are easily scalable and GC2-sized, making them a streamlined option for drop-in replacements. These batteries also stand out from other lithium batteries because they use the safest, most environmentally benign lithium iron phosphate battery chemistry; the highest quality, IP67 rated, components; and a proprietary battery management system (BMS) for precision balancing.
5 Benefits Of The InSight LT Series:
Built-In Intelligence
Low-Temperature Capabilities
Highest Quality Components
Drop-In Replacement
Optimal Use Cases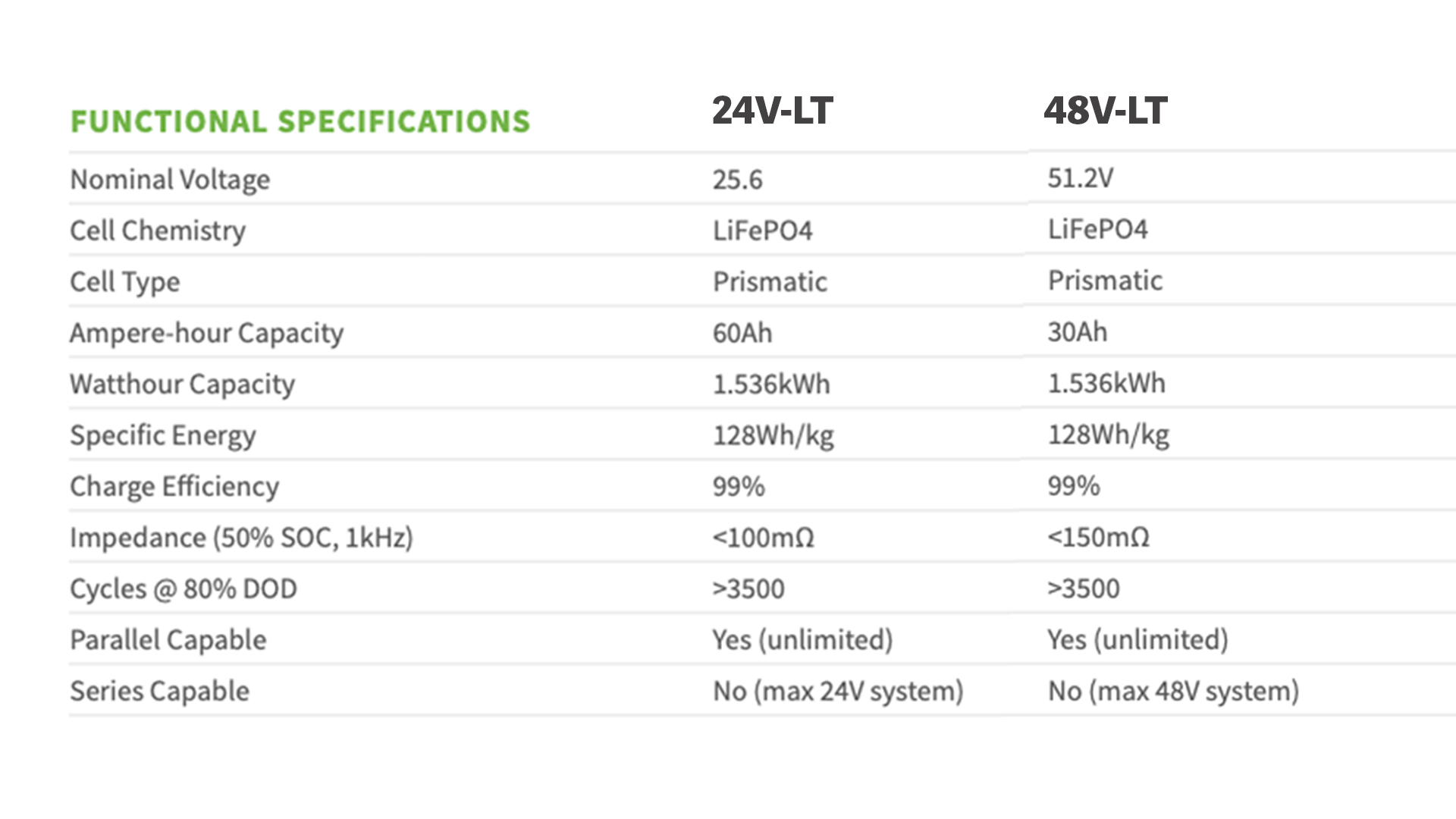 Built-In Intelligence
Both of these new batteries leverage RELiON's advanced, proprietary Battery Management System (BMS). This enables them to reliably calculate the state of charge and health of batteries due to their solid-state hardware. The BMS continuously processes a wide number of inputs, and instead of simply calculating outputs, the software's algorithms learn about the battery in real time. Alternatively, batteries with BMSs that have standard algorithms often see their outputs drift over time, as increasing variability in the data is processed through a fixed series of calculations. Fortunately, InSight's BMS is constantly updating, so it grows more accurate and stays accurate over the battery's lifetime.
Their BMS also features a combined total of 48 charge and discharge metal-oxide-semiconductor field-effect transistors (MOFSETs) that control current flow in and out of the battery, along with multilayer protective devices that prevent over or under voltage, current and temperature conditions. Multilayer protection is a key reason why InSight batteries are able to pass stringent UL safety standards.
InSight Series batteries also use a carefully engineered cooling management system to quickly remove heat from inside the battery during conditions of high recharge and discharge currents. This prevents overheating of critical components and extends the lifespan of the battery.
Low-Temperature Capabilities
From powering freezer equipment to vehicles in cold weather regions, the InSight 24V-LT and Insight 48V-LT batteries can safely charge in locations with temperatures as low as -20°C (-4°F). This is because the batteries are able to draw power from the charger itself, preventing them from requiring additional components – such as a heated blanket – to bring the battery to a safe temperature before beginning to charge. The uniform internal heating that RELiON's LT Series batteries provide is a key feature, as many external heating blanket options cannot properly sense the internal temperature of the cells and therefore may not be completely effective at heating the battery throughout prior to charging, which can potentially lead to battery damage.
Highest Quality Components
RELiON has excelled in quality standards for lithium batteries for nearly a decade and is always working toward creating new, innovative products. Its line of InSight Series batteries are IP67 rated and feature sophisticated components including an internal heat sink that prevents overheating and extends the quality and life of the battery. A rating of IP67 shows the highest possible protection against solids, and a high level of protection against liquids, which provides immediate, concrete verification for a consumer that these batteries would be highly immune to external intrusions that could potentially damage the battery.
All InSight batteries also boast several important industry certifications as a direct result of their high-quality components, including:
UN38.3: The prevailing United Nations standard that lithium batteries must meet to receive certification for safe transport
CE: Indicates that a battery has been assessed and determined to meet safety, health, and environmental protections
IEC: Proves that a battery has been tested and meets the standards of performance and safety according to the International Electrotechnical Commission
UL2580: Verifies that a battery has been tested and is suitable to be used in full-sized electric vehicles (EVs)
UL2271: Verifies that a battery has been tested and is suitable to be used in light electric vehicle applications
RELiON has been able to achieve these certifications for its InSight batteries due not only to the batteries' external heat sinks but also the fact that each cell within the batteries is cased in aluminum, which provides dimensional stability. The batteries' steel brackets also provide vibration and shock resistance for an additional line of protection.
Drop-In Replacement
These lightweight InSight batteries come in standard BCI group size GC2, allowing for easy installation and uncomplicated connections - all without modifying battery compartments or trays. For example, these can fit into standard battery trays for golf carts, utility vehicles, or other low-speed vehicles, as the hardest part of your replacement will be lifting the heavy, old lead-acid batteries out of their compartments. The InSight batteries are connected in parallel - meaning that the positive terminals are connected together and the negative terminals are connected together. This results in greater flexibility and freedom so that you can easily scale your system to provide increased power and energy as needed.
After you place the batteries into the tray and quickly connect them utilizing the battery cables, you can then connect the CAN cables just as easily: connect the CAN Out of one battery into the CAN In of the next battery, and the CAN Out of that battery into the CAN in of the next, and so forth. Although the CAN Cable Connection is not required in order to use the batteries, the CANbus connections allow batteries to communicate real-time operating statistics like the current, voltage, state of charge, and state of health and allow easy connection to our accessories including the Remote Button and Fuel Gauge, making InSight batteries more user friendly than other batteries.
Optimal Use Cases
Given their unique and advanced features as well as their size, the InSight 24V-LT and InSight 48V-LT batteries are designed and best suited for certain applications or use cases. The InSight 24V-LT is optimal for use in material handling applications, such as floor machines, electric motorized hand trucks, and walk-behind pallet jacks. Due to their ability to perform at a high level in low temperatures, they are also ideal for powering freezer equipment or utility vehicles in cold environments. They also are well suited for AGVs, which require a high power output, accuracy, and efficiency; as well as remote monitoring and solar applications. Given its higher voltage, the InSight 48V-LT is best for utility vehicles, AGVs with higher energy requirements, remote monitoring, as well as solar applications.
Interested in these batteries for your equipment needs? Contact a RELiON representative today.