Back in 2019 when RELiON first began designing what would become the first drop-in replacement lithium golf car battery, creating a whole series of GC2 standard-sized advanced lithium iron phosphate (LiFePO4) solutions was always on the product roadmap. Designed from the ground up, InSight Series® batteries are built smarter and to the highest quality standards. Below is a chart displaying the constructional differences between InSight Series and competitor products: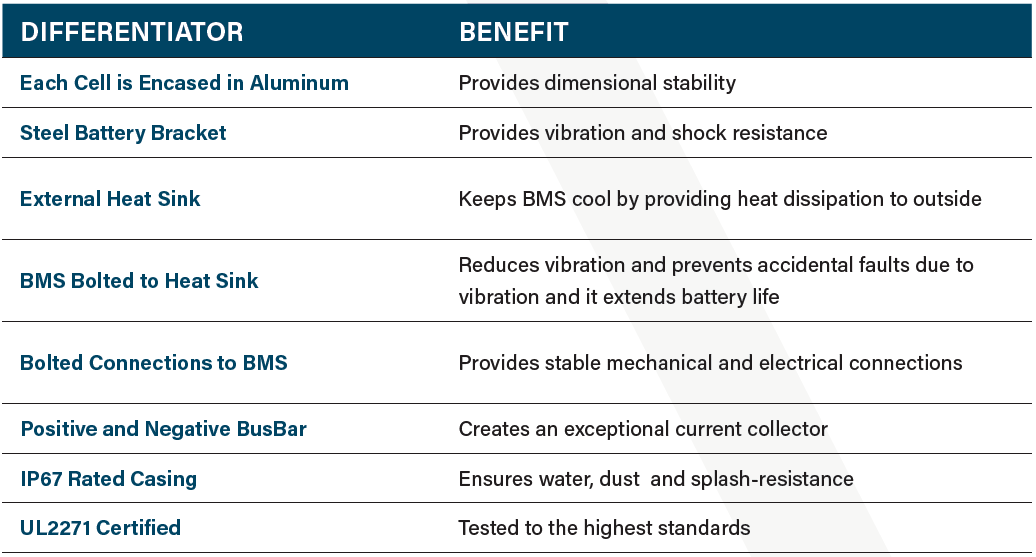 By bringing a safe, next-level power source to different applications and industries, RELiON has improved equipment and vehicle performance and the overall user experience. The InSight Series of LiFePO4 batteries power RVs and cabin cruisers, pallet jacks and commercial floor scrubbers, and electric utility vehicles plus many more applications that are continuously being discovered.

InSight 12V Applications
The newest addition to the InSight Series family, the InSight 12V battery allows RV and marine vessel owners to disconnect further by powering electronics longer and connecting to shore power less often. At 120 amp-hours, this dynamic battery can provide 160 amps of continuous current. Multiple appliances in an RV or boat can run at the same time using just one powerful InSight 12V battery. The InSight 12V-LT features our low-temperature technology and is built specifically to meet the power and energy requirements in RV and Marine applications in sub-freezing temperatures. They are also scalable, so you can provide increased power and energy as needed. You have the freedom and flexibility to use the right number of batteries for your personal setup.
Class A, B, and C recreational vehicles plus, Fifth Wheel, Travel Trailers, and Toy Haulers with 12-volt systems can upgrade their power source to this GC2-sized battery. This battery was designed for those who love to explore truly remote areas all while powering the essentials (microwaves and cooktops) and the non-essentials (hairdryers). RELiON also offers a low-temperature version of the InSight 12V battery.
Cabin cruisers, catamarans, and larger sailboats will benefit from the InSight's weight and size – with a smaller footprint, they take up less space in a compact area. Weighing in at only 34 lbs., they are half the weight of their lead-acid equivalent, boosting both performance and agility on the water.
InSight 24V Applications
The 60 amp-hour InSight 24V battery is a "hands-off" solution that helps take a load off pallet jack drivers, scissor lift operators, and floor scrubber operators by erasing the need for constant maintenance that lead-acid batteries require. By eliminating the "opportunity charge" often required with lead-acid batteries, operators can complete their tasks without having to stop, charge and wait. With no drop in voltage, PLUS sustained power throughout discharge, InSight batteries increase productivity for operators no matter what equipment they need to run.
The low-temperature version, the InSight 24V-LT, is built to meet the power and energy requirements in cold storage and freezer equipment applications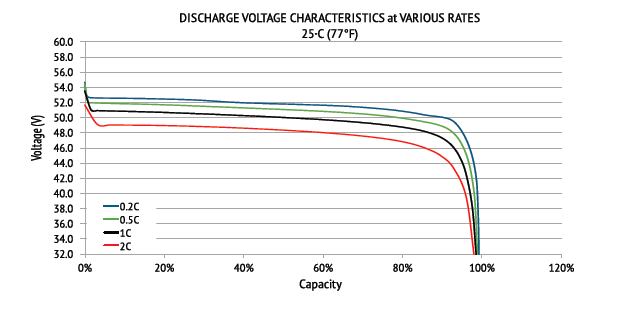 Not Just an Industrial Battery
Many types of electric vehicles have a 24-volt system. Single-rider golf cars capture the same benefits of overall performance in speed, hill climbing, range, and weight. And like applications for the 48V battery, futuristic robotic machines and solar systems also utilize this 60-amp hour battery.
InSight 48V Applications
Designed specifically for golf cars and other personal transportation vehicles (PTV), RELiON's InSight 48V provides a smoother, quicker, and more efficient ride. Users find that using only two 30 amp-hour InSight 48V batteries vs. six lead-acid equivalents removes a ton of weight allowing the vehicle to go further for longer and with more pep! The combination of greater capacity and less weight is a double benefit to your distance per charge. With a parallel battery system connection, if you find you need more range or energy, you can simply add InSight 48V batteries to your bank later down the road.
Not Just a Golf Car Battery
While the InSight 48V battery was designed specifically for golf and PTV applications, its versatility has lent itself to be used in many more types of equipment. The InSight 48V-LT was built to meet the power and energy requirements in utility vehicles, solar, and AGV applications in low-temperature environments.
Here is a list of some of the other applications that can be powered by this innovative battery:
A robotic heavy lift arm for the logistics industry
Solar systems for off-grid backup power
Floor machines for commercial cleaning
Aerial work platforms for material handling
Automatic guided vehicles
Electric golf range pickers
With the InSight 48V, the possibilities are endless. This battery is adaptable to so many different applications with its innovative features and its high 100A output, getting more "zip" from a motor or greater torque in lifting applications compared to lower-grade lead-acid and lithium options.
RELiON InSight Series batteries are the most intelligent, durable, and trustworthy lithium solutions on the market. And with 48V, 24V, and 12V options, they are perfect for powering a wide variety of applications. To learn more about how to calculate your energy needs and find the optimal battery for your application and usage, visit our Lithium Battery Selector Tool. Take the next step in upgrading your power source. Contact our team of LiFePO4 experts if you have any questions on how to get started. We love spreading lithium knowledge!