Angler Cole Blythe has always had an extreme passion for the outdoors. Growing up in rural North Carolina, he was surrounded by nature and lots of ponds, perfect for fishing. As a kid, he would drive around those ponds in a little metal boat learning how to fish as often as he could. Cole attended UNC Charlotte and fished in several Bassmaster College Series tournaments ignited his drive to for more serious tournament fishing.
He has competed in the Bassmaster Open Series in 2017 and 2018 and has fished the FLW BFLs and local team events in his area. Cole upgraded from lead-acid to RELiON lithium batteries two years ago for bass fishing tournaments and he hasn't looked back since.
RELiON Batteries Used: Cole uses a total of four lithium batteries, three RB100s and one RB100-HP. All four of these are in his tournament rig bass boat in a Falcon F205. The RB100-HP serves as his cranking battery while the RB100s power his 36V trolling motor.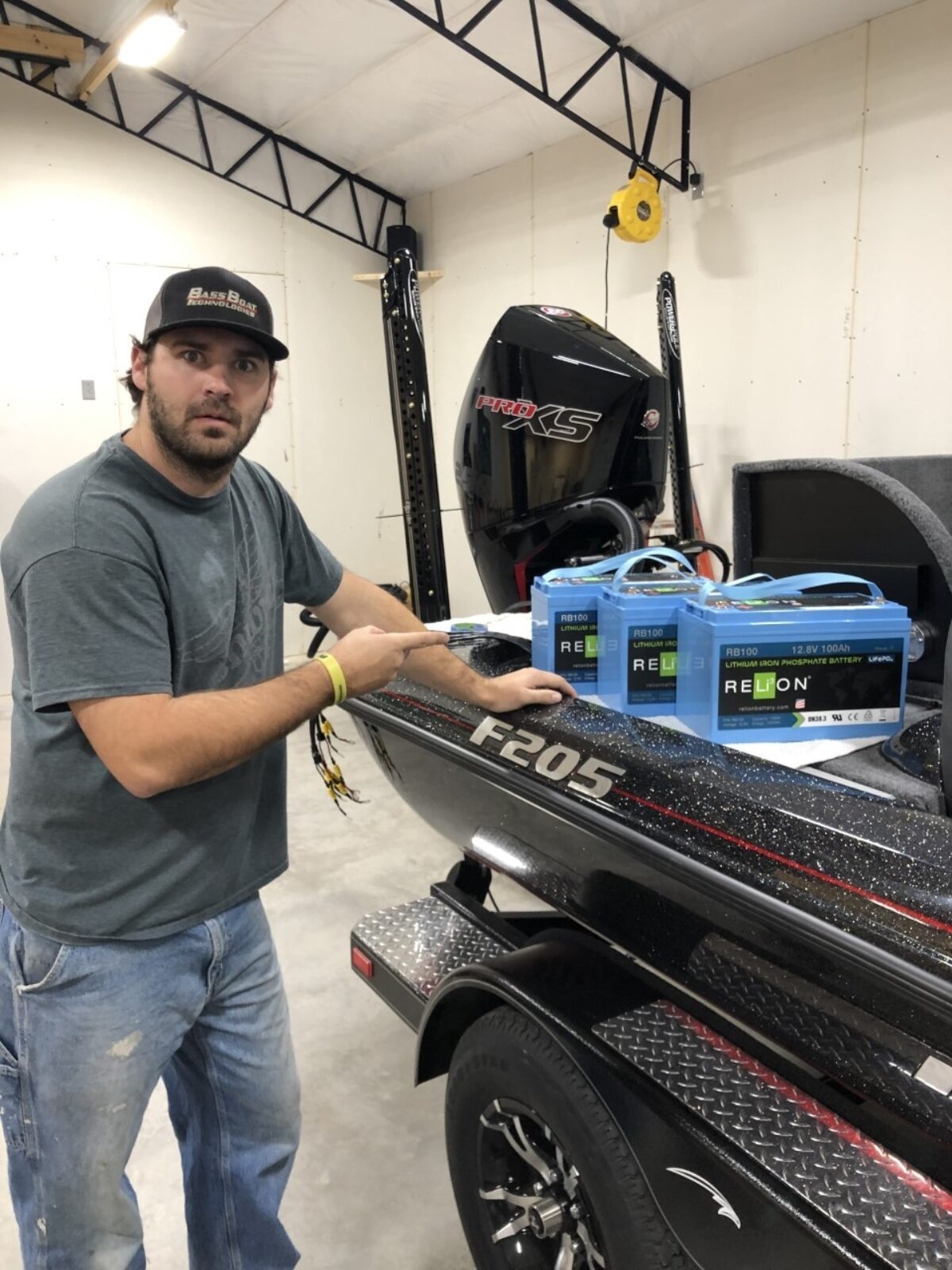 Why Cole Switched to Lithium Batteries:

"For a tournament, we can't make it anywhere without good batteries or what runs the trolling motor. And without a motor, we're stuck dead in water. Before lithium, it was lead-acid so I just went through many batteries over a long period of time and didn't know where my power problem was coming from."
Why Cole Chose RELiON:
"One reason was a good friend of mine, Patrick Walters. But the main reason I really liked RELiON is that with lithium batteries being fairly new, a lot of your competitors, where I'm using four batteries would only be using two batteries. Well, that battery is two or three times the price of a single battery because it's taken place of all three. But what I liked about RELiON is if I were to have an emergency situation where I had a problem with one, I can go to Wal-Mart or wherever is close by when I'm out of town and get a regular lead-acid battery and run that battery in line with my other. Unless you're a full-time pro, an Angler normally can't afford to have two 36V batteries where they had one foot back. So, if you're out there in the water and worse comes to worse and you have a problem with that one, 36V battery, you're done."
How Lithium Batteries Changed Cole's Fishing:

"There's two parts to Lithium's - the worst day of your life and the best day of your life. The worst day of your life is when you write the check to pay for it. The best day of your life is every other day after that. I don't push a lot of products and I don't push stuff that I don't like but these batteries have been something that had really changed fishing for me and something that I extremely believe in. It's just been all around an amazing experience. And one more important benefit to lithium is I have a lot of guys that get in my boat and we all know 70, 80 percent of us run the same trolling motor. So, a motor speed is one through 10. And when guys get in my boat the average speed that you run is five or six and they say mine runs equivalent to theirs on like level eight or nine because of how much power I'm getting. It's a lot faster."

Cole's Advice for Someone Considering the Switch to Lithium:
It's worth the money!