Bryan is one of the most accomplished bass fishermen - he's clenched nine wins, the second highest in FLW history, in his 15-year career. His 2019 season was one of the top 10 seasons of all time, and his overall earnings are the second-highest in all FLW history. In 2023, Thrift also became the first angler in history to win REDCREST and the Forrest Wood Cup trophy as well as the fourth different pro to win the Bass Pro Tour championship since its inception. Bryan started fishing when he was young, but it was after graduating college that he decided to make a career out of it. A North Carolina native, he loves that as a professional bass angler, he gets to explore new places around the U.S. He recently transitioned to RELiON's long-lasting lithium batteries so that he can be confident in his equipment and know he won't run out of power during his long days practicing and competing on the water.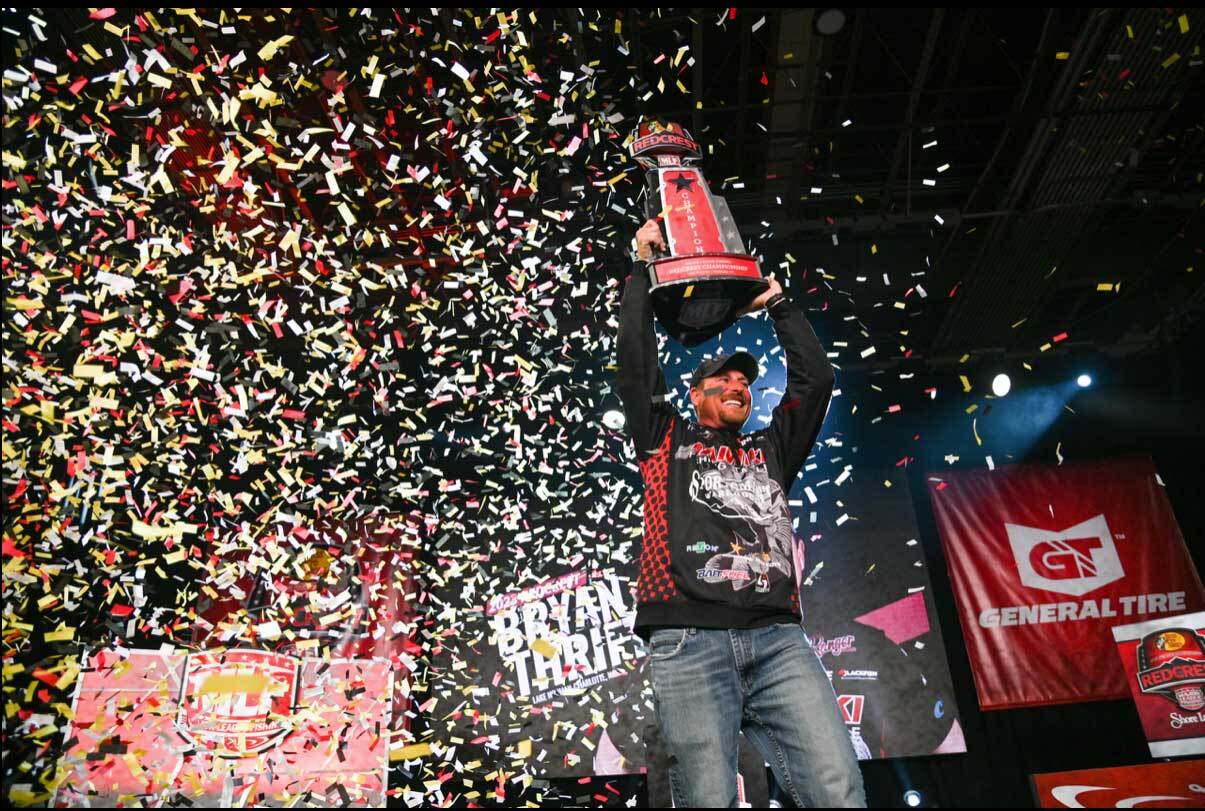 Bryan's power system includes:
Bryan's Ranger Z520L boat uses four of RELiON's RB100 batteries for his trolling motor and two RB100-HP batteries as starter batteries for cranking the engine. He also uses RELiON batteries to power his Humminbird electronics.
Why Bryan switched to lithium:
"I couldn't stay out on the water as long as I wanted to with lead batteries. I wanted to be on the water for at least 10 to 15 hours without needing to recharge, which would have been impossible with my old lead acid batteries. With lithium batteries, I can do that and also don't have to worry about long charging times at the end of each day."
Why Bryan chose RELiON:
"I talked to many bass anglers who spoke very highly of RELiON's lithium batteries. Every one of them said the RB100s have met and exceeded their expectations in terms of how long they can last on the water. Now that I've used them myself, I'm also really happy with their longevity in addition to their quick charge times. After a long day, I only have 7 or 8 hours until I need to be back on the water, and the RELiON batteries easily recharge back to 100 percent in that time frame."
How Bryan's lithium system helped him challenge his limits:
"When I was using lead acid batteries, I could only stay out on the water for 6 to 10 hours because I worried about using too much power. Now, I don't worry about that at all with RELiON, and I can stay out for 15 hours at a time. The batteries are also much lighter - three lead acid batteries could weigh up to 200 lbs, while six of RELiON's more powerful lithium batteries weigh between 150 to 170 lbs. I can maneuver my boat more easily with the lightweight lithium batteries, which really come in handy."
What Bryan loves about bass fishing:
"One thing about this job is that it's always changing. I've been able to see so many new places around the country and learn so much about new lakes. I started fishing as a hobby when I was a kid, and I'm extremely grateful that I've been able to make a career out of it and travel around the U.S."
Bryan's advice for people considering switching to lithium batteries:
"If you're debating making the switch to lithium, I'd highly recommend RELiON! These lithium batteries have allowed me to stay on the water longer and get back out there faster with their quick charge times. I don't have to worry about running out of power like I did with lead acid batteries - RELiON's batteries are made for this sport."