How Do RELiON Batteries Benefit Kayak Adventures?
Lithium has many benefits over lead-acid, whether you're a tournament angler or recreational angler. Those who use our batteries in their current kayak setup repeatedly mention the weight, quality and durability of the batteries. For example, the RB12 12v lithium marine battery weighs 3.6 lbs., making it much lighter in weight compared to lead-acid. RELiON lithium batteries offer full capacity throughout discharge, so you won't experience any late-day voltage drop. Even better? The batteries can fully charge in as little as 1-3 hours and provide built-in overcharge protection, and they're completely maintenance-free – requiring no watering, unlike lead-acid.
"The weight has been such a big factor in being able to use this battery. It was too cumbersome in the past to move batteries, so I wound up purchasing way more batteries than I actually needed at any one moment. Plus, trying to keep multiple batteries constantly charged was a hassle. With this technology, I have less to charge and it isn't a big deal if it goes a while without being topped off." - Steve B.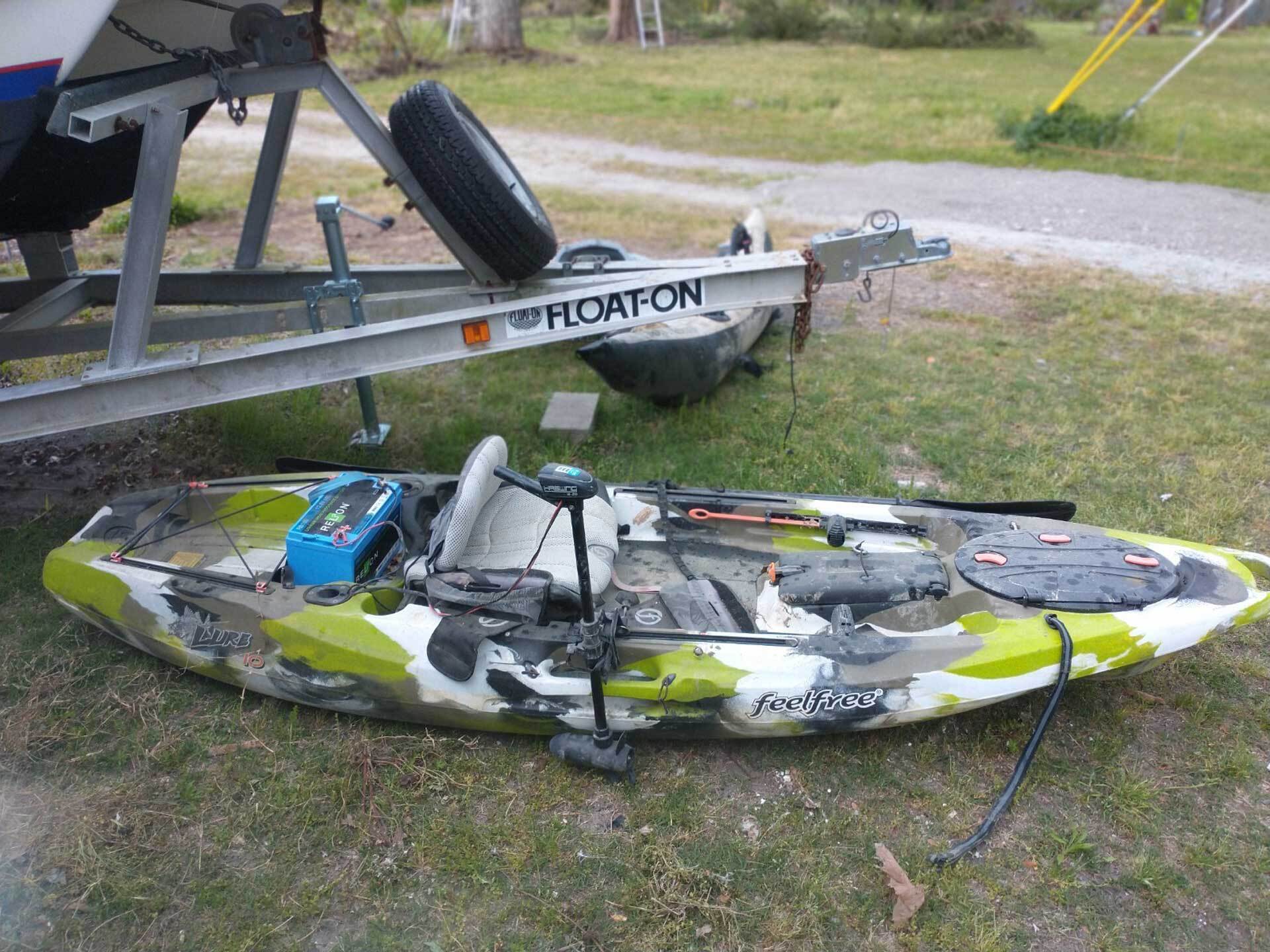 Steve's kayak fishing setup.
Plus, lithium batteries are inherently safer than lead-acid batteries. Our batteries have even been tested and hold several certifications, exceeding industry standards time and time again.

How To Choose The Right Lithium Battery For Your Kayak
Choosing the right battery boils down to what you need to power and how long you want to use it. The longer the run time you want, the bigger the battery you will need to get started with lithium in your fishing kayak. RELiON offers several 12V lithium marine battery options that would be suitable. For gadgets such as your fish finder or GPS, you don't need a ton of power, so smaller batteries such as the RB12 12V 12Ah lithium battery would be an optimal choice for smaller screen fish finders. If you're wanting to power multiple fishing accessories, you might opt for the 12V 20Ah for more power. Keep in mind that for 12V trolling motors, the capacity of the battery should be larger than the pounds of thrust of the motor.
What Do I Need To Make The Switch?
The short answer is not much! RELiON batteries are truly plug-and-play, drop-in replacement batteries. Like any battery replacement, you'll need to consider your capacity, power, and size requirements. You'll also want to ensure you have the right charger; however, most existing charging sources are compatible with RELiON lithium iron phosphate batteries.
Ultimately, RELiON lithium batteries offer major weight and space savings in your kayak. Are you using RELiON in your current setup? We'd love to hear from you in the comments below! For more information or if you have questions about upgrading your kayak to lithium, please contact us.