Ben Paschal started to guide fishing trips 16 years ago when he was only 19. He now owns and operates Laguna Madre Outfitters, which provides clients with a safe, successful day out on the water fly fishing redfish and trout. Ben provides guided excursions in the Laguna Madre (Spanish for "Mother Lagoon") in south Texas from March until late December and in the Louisiana Marsh from December to early March, totaling about 260 charters per year. With all of his hours logged on Laguna Madre, he's been able to learn the fishery better than anyone else in the world. Laguna Madre is one of the most shallow fisheries in the world and one of only six hypersaline lagoons in the United States. Learning the unique nuances of this bay system and discovering new facets about it every day is what Ben loves most about his job. In Louisiana, Ben takes clients to the Louisiana Marsh, where they have the chance to fish bull redfish, which are notable for their sheer size.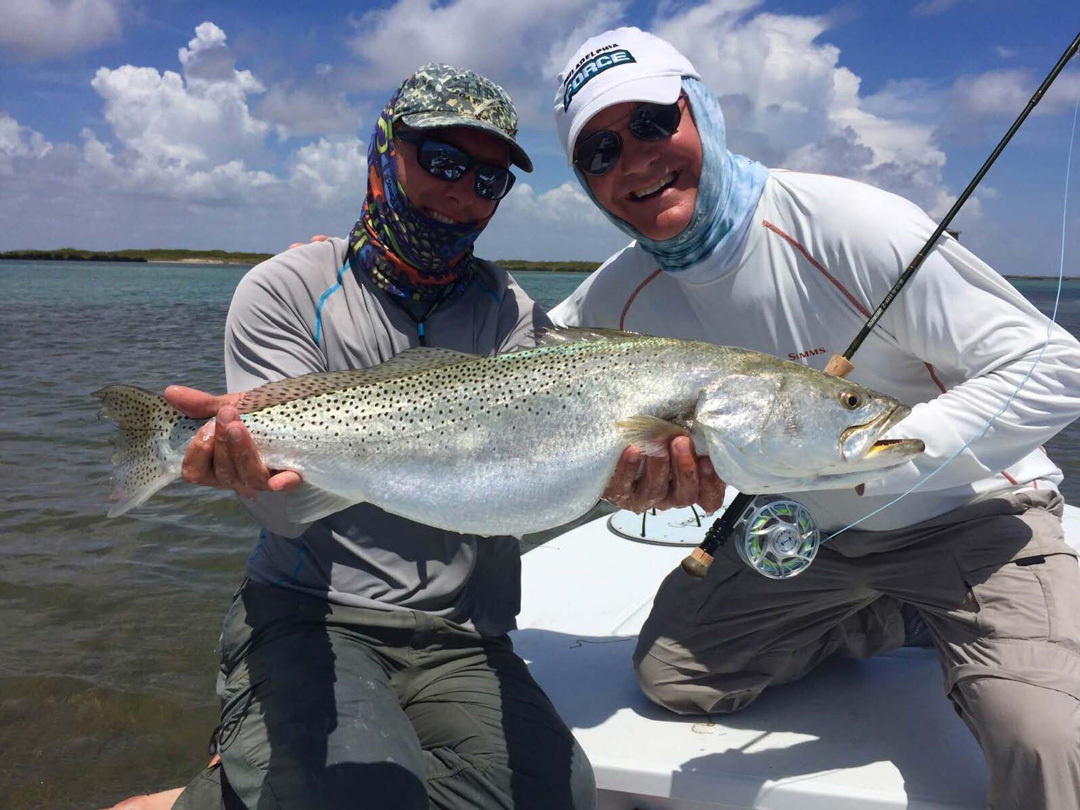 Starting at sunrise, Ben takes clients out on the water for an eight-hour day of fly fishing. He primarily guides for redfish and trout, but can also help clients aim for inshore fish like tarpon, too. Ben leverages his experience fishing all over the world, in places like Alaska, Argentina, Chile, and various U.S. states, to ensure his clients enjoy their day outdoors to the fullest.
In both Laguna Madre and the Louisiana Marsh, the water is between one and three feet deep. There are specific challenges that come with fishing in such shallow water, not only in technique but also in terms of what tools are required. The weight that is on the boat determines a lot about how you can maneuver on the water, which makes it important to only bring essential items. He needed a power system that would enable him to navigate these areas to provide the best experience possible for his customers, which meant he needed something lightweight that would last all day. We spoke to him about how his RELiON batteries have empowered him in his business operations.
How have RELiON lithium batteries helped you with your fly fishing business?
"Such a shallow bay system means that every extra pound matters. When a tarpon is thrashing around and there's a little bit of wind hitting you too, you can really start getting blown all over the place. That's not the kind of experience my clients pay for. When I switched to RELiON lithium batteries, those problems were eliminated. Instead of 150 pounds in my bow, I now have about half of that. My RELiON batteries also give me the ability to diversify the experience for my clients. With traditional lead acid batteries, I was hesitant to use my trolling motor because I didn't want it to run out of power. With lithium batteries, if we want to move to another area, we can easily cruise three miles down and try another spot instead of floating aimlessly. I was limited by the power of my trolling motor - if it started dying in the early afternoon I'd have to pack up for the day and head in. That hasn't happened once since switching to RELiON. These batteries have half the weight and double the charge - they're exactly what I needed for my business."
Ben uses a 2016 Hell's Bay Professional boat, equipped with a 24V system with two RB100s for the trolling motor. He is building a new boat as well, a Panga, for offshore fishing, that will have a 36V system and use another RB100. He decided on RELiON lithium batteries after his AGM batteries died after just a couple of years. He contacted his boat builder, Hell's Bay, who recommended RELiON specifically as the brand that would meet all of his needs.
"I knew I wanted to make the switch to lithium batteries, and between my friends recommending RELiON, and the boatbuilder themselves too, it made the decision easy."
Are lithium batteries worth the switch?
"I was putting off upgrading my system because I wasn't sure if I wanted to make the investment yet, but now that I have, I wish I had upgraded it earlier. When I was using AGM batteries, they would die every two to three years, and I'd have to spend hundreds of dollars replacing them. Once you do the math and factor in RELiON's 10-year warranty, it makes so much more sense to make the investment in order to have full confidence in batteries that will last, are durable, and give you unlimited options during a day out on the water."
Do you have any advice for people outfitting their boat's power system with lithium batteries?
"I highly recommend choosing RELiON's batteries for your energy system. After using them in my Hell's Bay boat, there was no debate about which batteries I would choose for my new Panga boat. I will never go back to lead acid after experiencing such high performance from lithium batteries, and if you're going to switch to lithium, it's got to be RELiON."
Thanks to Ben's lithium upgrade, he is able to navigate into much more shallow water to find more and different types of fish, providing his clients with a top-notch fishing experience that they will never forget. He also no longer has to worry about his batteries losing power mid-day or lasting the full day. To learn more about how to calculate your energy needs and find the optimal battery for your application and usage, visit our Lithium Battery Selector Tool.
Interested in upgrading your energy system to RELiON lithium power? Contact our tech experts for more information.