From Cuba to the Caymans, Stephen and Dawn Bell have already sailed to some of their top destinations from their home in North Carolina. As they approach retirement, they're gearing up for their longest trip together on their Leopard 48 catamaran: a five year journey, starting with the Virgin Islands and the Panama Canal. Having originally met through a hiking club, their love of the outdoors immediately connected them, as it continues to today. Stephen developed a passion for sailing early on, maintaining his USCG Master Captain's License since 1986, and it didn't take long for Dawn to develop similar endearment for sailing.
While the Bells have sailed for a few weeks at a time with their previous lead-acid battery bank, they knew they would need a more reliable energy system to power crucial navigation electronics and freshwater producing systems - both for their safety as well as peace of mind. The last thing they wanted to be worried about in the middle of the ocean was whether they would be able to make it back home. Therefore, when their absorbent glass matt (AGM) lead-acid batteries stopped being able to hold a charge after just several years, they decided to
upgrade their sailboat lithium batteries
and go with the long-lasting RB300, as well as a more robust solar array. We recently spoke with the Bells about what it has been like to sail, fully off-grid, for long periods of time, their favorite part of sailing, what it was like to make the switch to lithium, and what tips that they have for others looking to sail long-term.
Why did you switch from lead-acid batteries to RELiON lithium batteries specifically?
Stephen: "We did a lot of research to find the safest and most reliable lithium batteries. I have a strong background in mechanical and electrical industrial engineering, and I was impressed by the well-designed Battery Management Systems (BMS) and internal temperature controls that the RELiON batteries had. We also really liked that their batteries come in a very wide array of capacity sizes and physical dimensions and can be installed on their sides. These RELiON batteries were the exact right size to replace each of our prior four lead-acid batteries. We also couldn't find any similar 300 amp hour batteries from other manufacturers except RELiON, which was a large factor for us. Without such high amp hour batteries, we would have potentially needed to install a whole second set of batteries to reach the same amperage and capacity."
The Bells' new energy system consists of 1,460 watts of solar energy, two Victron solar charge controllers, two OutBack Power FLEXmax 80 charge controllers, and four RELiON RB300 12V batteries for 14.4 kWh of energy storage and 1,200 amp-hours. This robust, upgraded system powers a refrigerator, a freezer, four Raymarine chart plotter monitors, their autopilot system, a freshwater pump, a shower pump, a watermaker, a microwave, a hot water heater, kitchen appliances, as well as all outlets and lighting on the boat. Compared to their last solar-plus-storage system, the Bells now have 50 percent more rated energy storage capacity. The Bells' previously only had 108 watts of solar energy, and 9.6 kWh of energy storage, and 800 amp hours from four AGM lead-acid batteries.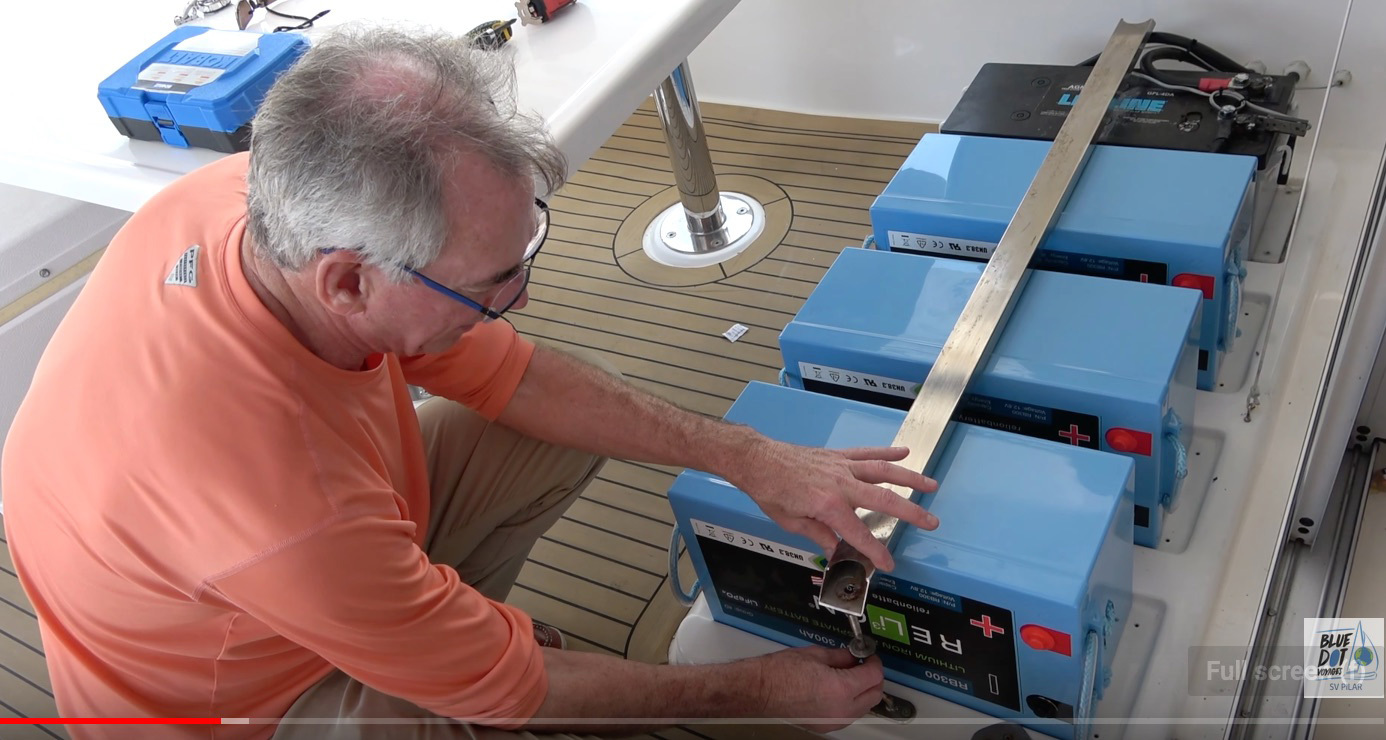 Did you have to substantially limit your energy use to transition to full-time off-grid catamaran life?
Stephen: "After we installed the RELiON lithium batteries, not one bit. With the lead-acid batteries, we were limited in large part by their inability to be discharged as deeply without damaging them. In other words, despite the total 9.6 kWh rated capacity of our prior AGM batteries, we could only use about 15 to 20 percent of this, so less than 2 kWh, before having to recharge them. It was a total pain. On top of that, the lead-acid batteries took much longer to recharge. We don't have to think about any of this with the RELiON batteries and can just focus exclusively on exploring and relaxing. We actually find that we regularly have excess energy with the RELiON battery system. We love that we no longer have to use a noisy, polluting, and fuel-dependent generator as a backup like we used to when the lead-acid batteries would run out of juice."
What do you love most about living off-grid on a catamaran?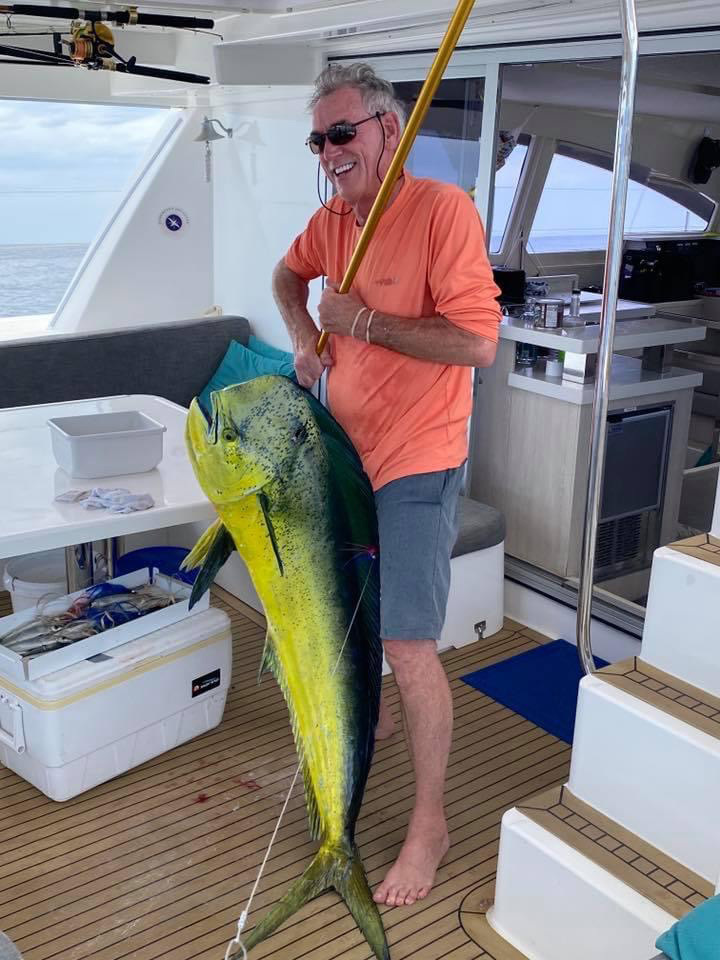 Stephen: "We love the complete freedom and independence that it provides. We're able to literally chart our own destiny every day. As we are both quite fond of exploring the outdoors, there are countless activities we can pursue when out at sea, such as fishing, snorkeling, paddleboarding, and scuba diving. Instead of living on land and having to make trips to enjoy the outdoors, we are engulfed in nature all day, every day."
What would you tell a friend considering upgrading to lithium batteries on their boat?
Stephen: "Definitely do it, as I'm certain you won't regret it. Be sure to conduct a thorough analysis of your energy needs before building out your energy system though. The sails and the energy system are the most important factors to take into consideration prior to setting sail. After you determine how much energy you are likely to use, we recommend sailing for a week at a time to test and confirm your analysis. Lastly, have fun!"
Now that the Bells have a reliable, long-lasting RELiON battery and solar energy system in place, they are more eager than ever to retire and begin their multi-year-long journey. Follow along with the Bells' upcoming adventure through their Blue Dot Voyages catamaran sailing vlog.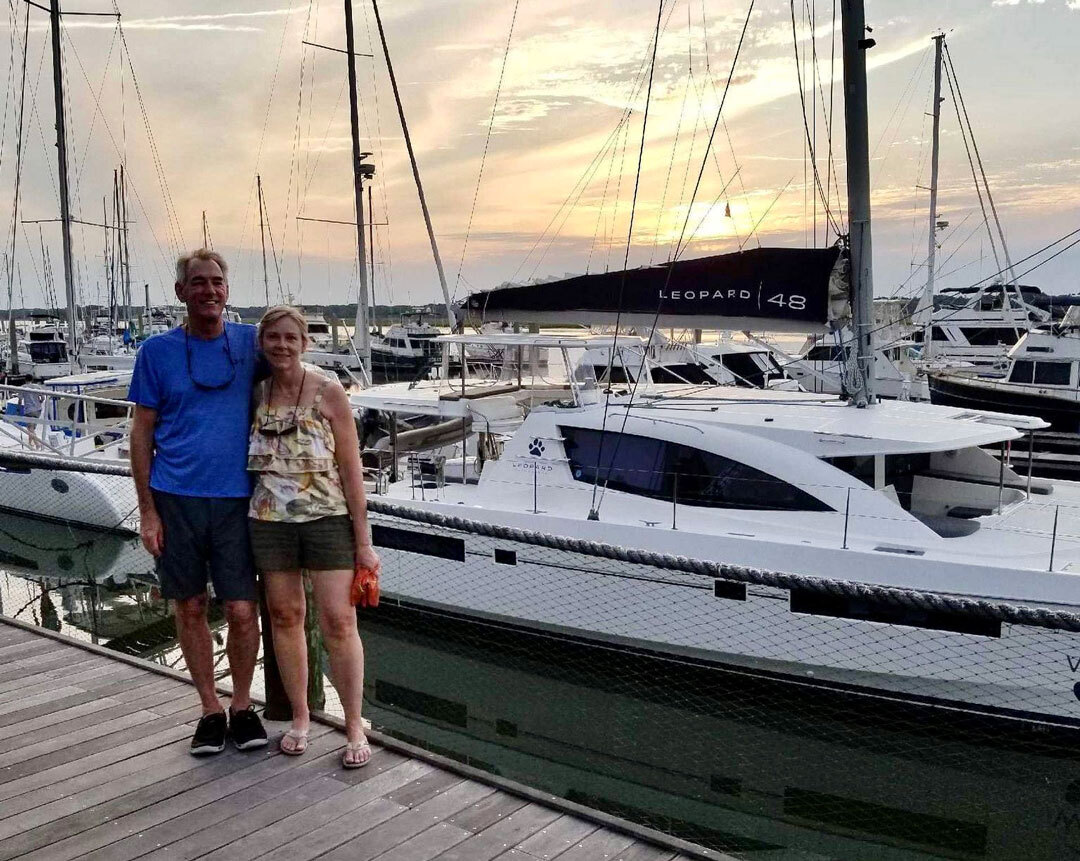 To learn more about how to calculate your energy needs and find the optimal battery for your application and usage, visit ourLithium Battery Selector Tool. If you are ready to upgrade your vessel, check out our full line of lithium batteries. Not sure what you need to get started? Contact us and we will help you answer any questions you may have.