The warmer months are here and it's time to take your golf car out of winter storage. You could be planning to hit the links on the golf course or the strip at the beach, either way, the first ride of the year is a great feeling. Be sure to take the steps that are necessary to maintain your golf cart and keep it running smoothly all year long, and hopefully, you took the steps back in December to winterize your cart to make this process clean and simple.
Electric Golf Cart Maintenance Checklist
Follow these steps to make sure your golf cart is ready to roll this year:
Check your batteries
Inspect your tires for tire pressure or any damage, air them up, or change them if they need to be switched out.
Check your steering and tighten it up if it feels a little loose.
Check your brake cables, hydraulic brake fluid, and brake shoes
Make sure your reverse buzzer and exterior lights are working properly
Clean it up and roll it out!
If you have an electric golf cart, keeping your golf cart's battery in top shape is the most important part of the maintenance process.

Checking Your Golf Cart Batteries
If you have lead-acid batteries, there are several potential problems you could endure when getting your golf cart out of winter storage. Overwatering and underwatering are two of the biggest mistakes you can make. Doing either one can ruin your battery. You will also want to check your battery and connections for corrosion or any other visual damage.
Tighten the battery connections if your batteries are giving you sluggish performance it may be time to replace them. Loose connections or bad cables will also burn the battery post up so make sure to check the connections even if your golf cart starts right up without issue.
The last thing you want to do is charge the battery. Lead-acid batteries require you to charge them routinely over the winter months, but LiFePO4 or LFP batteries have a much better discharge rate than lead-acid. They will only discharge at about 2% of the charge per month, Temperature affects any battery's rate of discharge but LFP batteries don't lose trivial amounts of energy to self-discharge when they're put in storage. They can easily store for up to 12 months without needing attention. When you're ready to get your cart out when Spring comes around, give your batteries one more full charge when you take them out of storage.
You may want to consider investing in a professional to properly service your golf cart If you aren't the DIY type. One major benefit of this is peace of mind.
Signs Your Lead Acid Golf Cart Battery Is Failing
As lead-acid batteries age, they provide less power. If your cart is getting slower and slower with less acceleration, then maybe it is time for an upgrade. Here are some telling signs you should look to get new batteries for your cart.
If you are getting shorter trips from each full charge, you may want to test the battery with a load tester.
If hill climbs are almost impossible your problem resides in the battery. It is experiencing a growing number of bad cells or even a low voltage reading after you fully charge the battery.
Visual indications like budging or cracked housing and any liquid dripping from the battery will certainly tell you if you have a bad battery.
Lithium batteries have an extensive list of advantages over lead acid but come with a higher retail price. They are more efficient than lead-acid, have outstanding performance, and boost the overall driver experience.
They are less than half the weight, which makes them easier to install and an easier load on your cart, creating less wear and tear on the fairways. Lithium golf cart batteries have zero maintenance duties related to them, which means no water or cleaning acid residue from the connectors. They provide higher, sustained power so they are never sluggish. They're difficult to damage, unlike lead-acid batteries that often see premature failure due to improper charging. Just charge them up and hit the links! On top of these benefits, lithium golf cart batteries last up to 10 times longer than lead-acid, which means you don't have to replace batteries every couple of years.
Upgrade Your Golf Cart to Better Batteries
If you are looking to get peak performance out of your golf cart, then you should look to upgrade your cart to lithium golf cart batteries. RELiON's InSight 48V battery was designed from start to finish to be the best lithium battery available for any golf cart. The most common lead-acid golf cart battery is a group-size GC2/GC8 battery. Therefore, the InSight 48V lithium battery will make for a much easier installation because it fits directly into your existing battery compartments with no tray modifications needed.
InSight 48V allows you to go farther with each additional battery you connect in parallel. Most golf carts have between 4 and 6 spaces for batteries. Lead-acid and other lithium batteries need to be connected in series so you can get 48 volts from your entire battery bank. The InSight 48V battery is connected in parallel, which means that you can connect additional InSight 48V batteries to customize how much battery capacity to meet your desired mileage range. That is, you can start with a two-lithium battery system, and if you find you need more range, you can simply add one or two more lithium batteries to your system later on. Two InSight 48V batteries will provide 60-amp hours and 24-34 miles per charge, three will provide 90 amp hours and 36-51 miles per charge and four will go 48-70 miles per charge with 120 amp-hours. To learn more about how to calculate your energy needs and find the optimal battery for your application and usage, visit our Lithium Battery Selector Tool.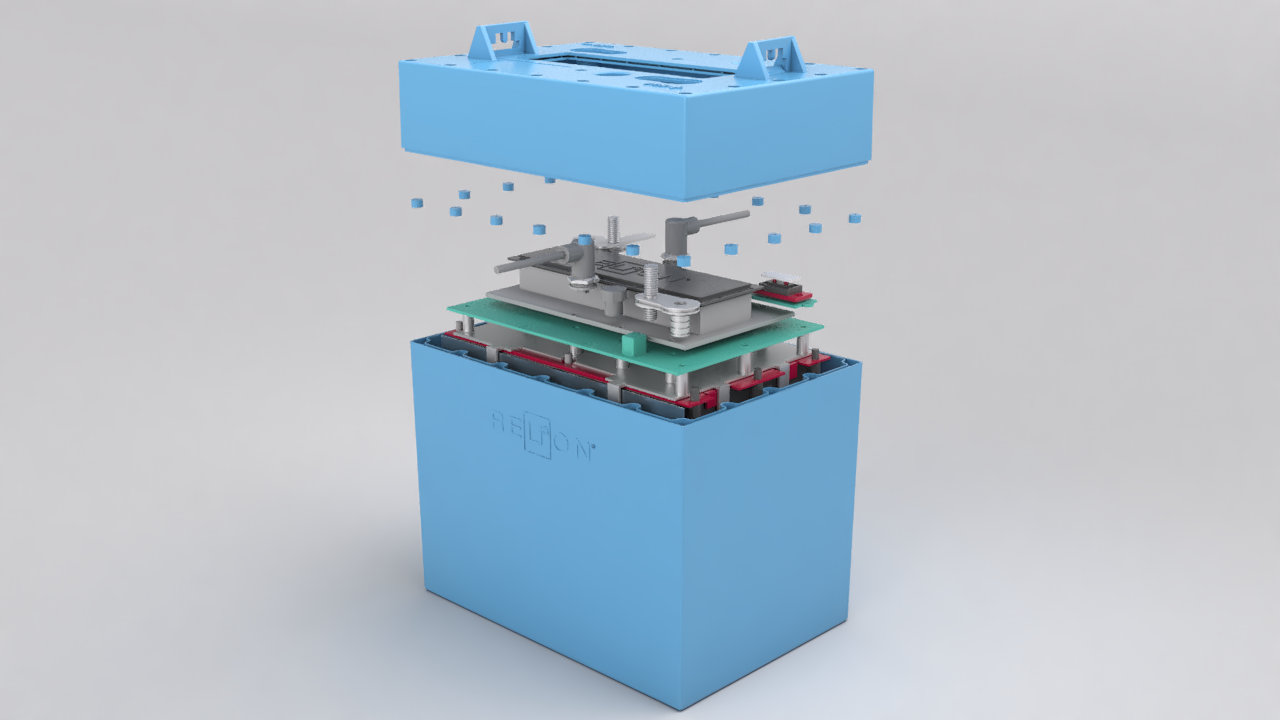 The internal battery management system or BMS of the InSight Series line protects the battery from potentially damaging circumstances such as over-voltage, under-voltage, over-current, over-temperature, short circuit, and cell imbalance. This makes the InSight Series a lot smarter than your average deep cycle battery. InSight batteries feature a sophisticated CANbus port that allows the batteries to communicate real-time operating statistics like the voltage, current, state of charge, and state of health. This feature also makes it much more user-friendly with the RELiON Insight fuel gauge.

InSight also includes an updated heat sink which makes the battery safe from overheating. The heat sink is a critical design feature because a single InSight battery is capable of 100-amp continuous discharge. This high output translates to more "zip" from the motor in light electric vehicle applications and greater torque in lifting applications when compared to lower grade lead-acid or lithium options. Most comparable lithium options are only capable of 50 amp continuous or do not list a continuous rating at all.
Getting your golf cart out of storage and ready for warmer days will take a little bit of basic maintenance to get it running in top shape. You may want to look at upgrading your cart's power source to a much more efficient option so that you can spend less time worrying, and more time riding. Contact our team if you have any questions on how to get started, we would be glad to help!