Going camping can be a great way to reset your spirit and unwind from the modern world, but many still want to have the comfort they have at home while they enjoy nature. You can still have your laptop, Bluetooth speaker, and electric grill by knowing how to prepare your campsite with the right off-grid power options. Read on to discover what type of camping is right for you and how to power your living essentials with the help of solar battery systems and portable power stations.
What Type Of Camping Is Right For You?
If you have never been camping before, or want to know what other options are available, here are a few styles of outdoor living that may spark your interest.
RV Camping
Recreational vehicle or RV camping is a great way to get away from a busy modern life but within the comfort of having all your amenities under one mobile roof. RV ownership has increased 62 percent in the last 20 years, and rentals increased 650 percent during the COVID-19 lockdowns of 2020. There are class A, B, and C motorhomes that range from your small camper vans to a full-size RV that is 30-40 feet in length. Buying a motorhome can be expensive, and the longer in length your RV is, the more regulations there are on where you can park and camp. In recent years, converting vans into off-grid mobile homes has been an increasing trend.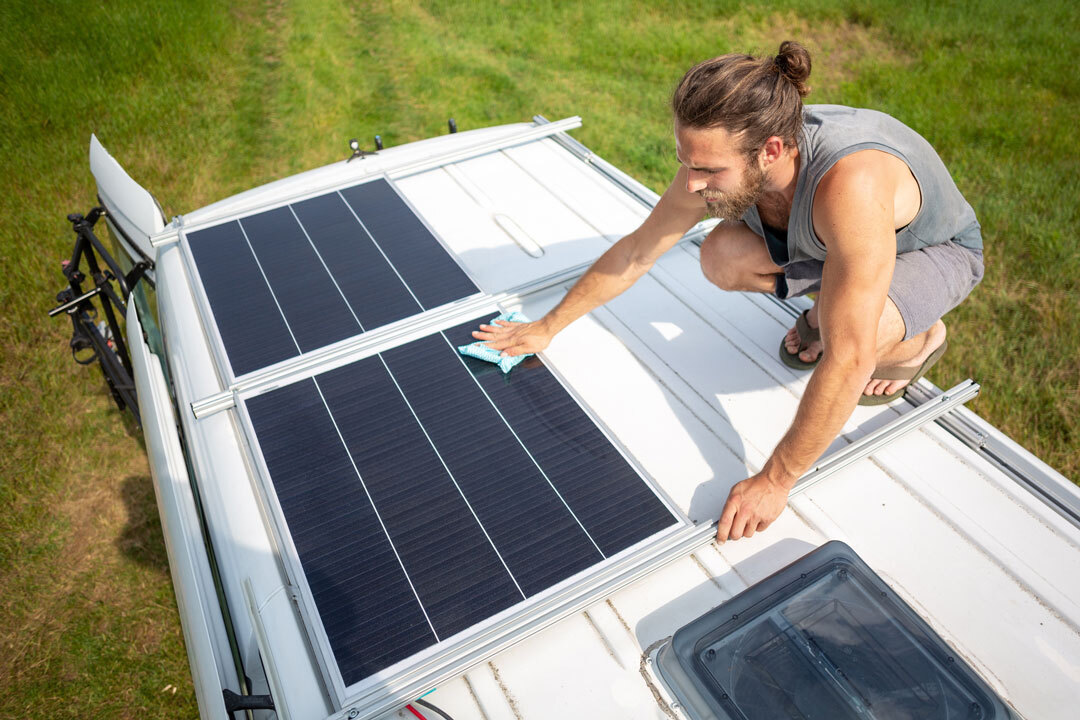 Camper Van Conversions
A camper van is typically a van that has been customized with sleeping and some living accommodations. You'll often find them built on Mercedes Sprinter or Ford Transit bases. However, just about any van can be customized into a campervan, with old VW vans even being a popular choice. In comparison to other recreation vehicles on the market, campervans are considered a Class B vehicle, making them smaller than both Class A and Class C vehicles (no, you didn't read that wrong, Class B's are smaller than Class C's). Camping vans have increased in popularity over recent years as people start to ditch the conventional "American dream" of owning a home and opt into the nomad qualities of off-grid van life.
Tiny House Camping
Glamping has become a popular trend around the world in the last 10 years. If you're curious about what it'd be like to live in a tiny house, then glamping is the perfect excuse to try it out. Rent a tiny house for a week or more so you can get a feel for it. That way, there is no commitment to owning it, but you get a taste of what the lifestyle is all about. Who knows? Maybe you'll love it so much that you'll want a tiny house of your own.
Tent Camping
Tent camping is an easy getaway. It doesn't have to be complicated, and you can do it just about anywhere you can tote and pitch a tent. From backpacking trips to beach camping, the opportunities for tent camping are just about limitless.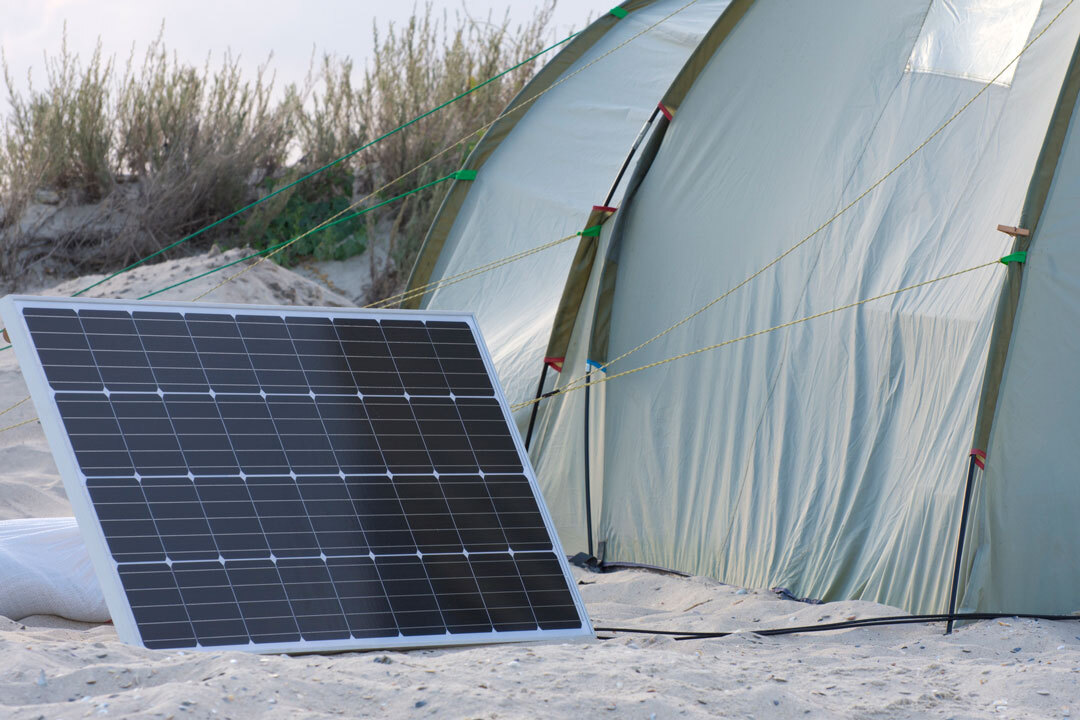 Solar Power Systems For Camping
Having solar-powered lighting and backup power at your campsite is one of the most efficient ways to make sure you have all of your electronic amenities are taken care of when you're off the grid. Generators are loud and inefficient, so having a solar power system for your RV or campsite creates a renewable energy source. No matter what camping Setup you use, portable solar panels or complete solar systems with batteries can offer a solution to all these problems and get you the best solar power for camping. Solar for camping has become more and more popular with the advances in lightweight folding solar blankets and portable solar options that allow users to easily get 12 Volt power for camping in any location. Getting the right solar setup for camping means you can use any household appliance that plugs into a normal power point like coffee machines, camping stoves, and outdoor lighting.
When you use RELiON lithium batteries as part of your solar energy system, you know you're making the absolute most of it. Three RELiON RB100 lithium batteries for your RV would crank out a total of 3,840 Wh of energy storage and can power your energy needs for days at a time for those long weekend adventures.
How To Power Small Appliances When Off-Grid
When you're off-grid and away from your busy life, you'll still want to be able to easily keep devices charged for your safety and enjoyment. In order to make sure your power needs are met without risking depleting your vehicle's batteries or damaging the environment, consider installing reliable and long-lasting RELiON lithium batteries with solar panels to have access to power twenty-four-seven. You can also have the option of bringing a 1000w portable power station to help power other essentials.
What Batteries Do I Need For My RV?
Lithium RV batteries are the best kind of batteries to fuel your latest adventure. Lithium batteries are also an environmentally conscious option for your RV and allow you to enjoy traveling all over the country without stressing so much over your carbon footprint. The RB100 is a 12v 100Ah deep cycle battery and the perfect addition to your RV's battery bank. With the help of solar panels on your rv or an electrical hookup at a campground, you can power the basic functions of the RV as well as some small appliances for as long as you need.
To learn more about how to calculate your energy needs and find the optimal battery for your application and usage, visit our Lithium Battery Selector Tool.

Tips For Using Electronics While Camping:
Try to use battery-powered appliances. Small electronics like alarm clocks and fans will run for months on the same batteries. The more you can alleviate the load on your electric consumption, the longer you'll be able to camp off the grid.

Try to use energy-efficient appliances that are rated for less energy consumption. Make sure your small and large appliances are up to date with the latest energy-saving features.
Use dual solar electricity sources for an RV or Camper Van. When using solar for RV camping, use both the roof-mounted and portable types. If your camping spot is too shaded for the roof panels to be effective, you can set up the portable ones in the brightest available sun.
For reduced power needs, consider using smaller, portable power stations, such as the RELiON Outlaw 1072S.
Electronics That Make Camping Easier
Mini Refrigerators
Outdoor Fans
Outdoor Lighting
Radio
Electric Camping Grill or Stove
Bluetooth Speakers
Rechargeable Headlamp
Air Mattress Pump
Portable Power For Your Campsite
The Outlaw 1072S portable power station can power everything from a laptop or speaker to a blender, mini-fridge, or TV. This lightweight, safe and maintenance-free lithium power solution is easy to transport and capable of taking on every adventure. Perfect for camping, hiking, hunting, and emergency backup at home, the Outlaw 1072S is strong enough to power what you need, when you need it, wherever you may be.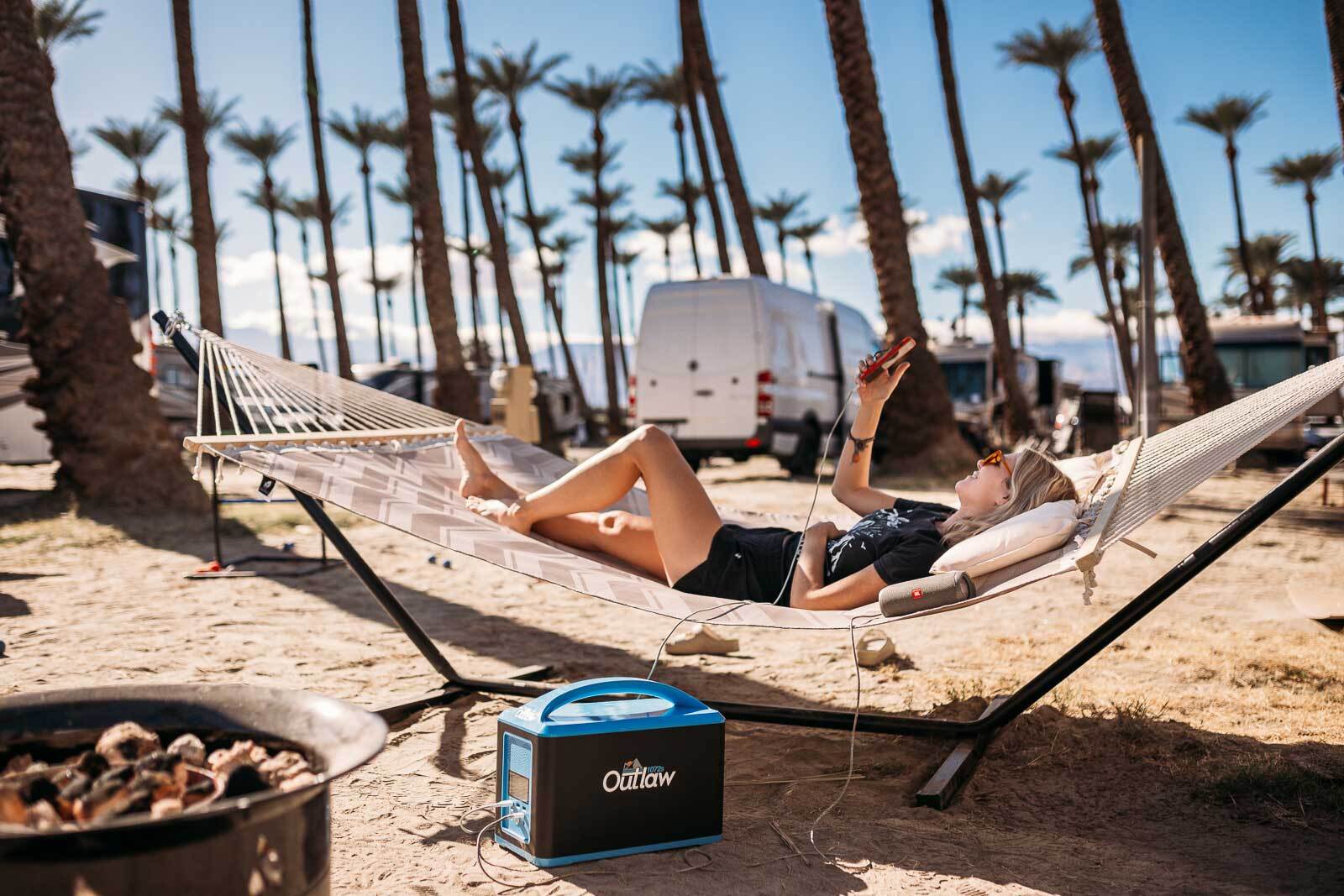 So, what are you waiting for? Get your gear list together and step out to the great outdoors! With the help of RELiON lithium batteries, there are many ways to generate electricity for your camping adventures. Contact our team for more information on how to get set up with off-grid power the next time you set up camp.