With spring rolling around, it's about that time to start getting your RV ready for the road! To make sure that your adventures this season are easy and hassle-free, it's important that you fully de-winterize your vehicle before embarking on your next trip. This will help you avoid any unexpected trip delays and save you from having to spend precious time and money in the shop rather than where it counts - exploring the outdoors. We've provided a list below of the top items that you should focus on to get your RV in top shape for your upcoming trips.
Flush your water system
Check for any sign of rodents or critters
Look for any possible water leaks
Fully charge your batteries
Check all utilities and safety mechanisms
Flush Your Water System
If you live in a region that reaches freezing temperatures, you likely prepared your vehicle with antifreeze for the winter. Now that spring is coming, you have to sanitize the freshwater lines to rid of any potential contaminants that could impact your health. First, drain the tank. Then, fill it with a sanitizing solution. This can be done with bleach or a safer alternative like hydrogen peroxide. Fill the tank up with this solution and then turn the pump and all the faucets on, with both hot and cold taps turned. Let the solution sit in the tank for about 24 hours. After, drain it and fill it back up with clean water. If you decide to use bleach, you'll have to rinse it again with a neutralizing solution before filling the tank with clean water.
Check For Any Sign Of Rodents or Critters
If you haven't stepped foot in your RV all winter, you should check the inside to make sure no rodents have made it to their home for the season. Beyond that, you should also check the refrigerator, furnace, and water heater systems to verify that no rodents or critters have nested. If they have, and you don't clean them out, using the burners on these systems could pose a fire hazard. To clean them out, use a vacuum or an air compressor. Doing this yearly ensures that the job is easy and also avoids any build-up of dirt and dust.
Look For Any Possible Water Leaks
While it isn't a necessary step before getting out on the road, it's a good practice to wash your rig down to get the dirt from the prior season off. This is also a good opportunity to get on the roof to check for any leaks. In addition to the roof, you should also check for water stains at the openings of all the doors and windows to make sure there wasn't any leakage during the winter. You don't want to get stuck during your trip having to repair broken seals or delamination.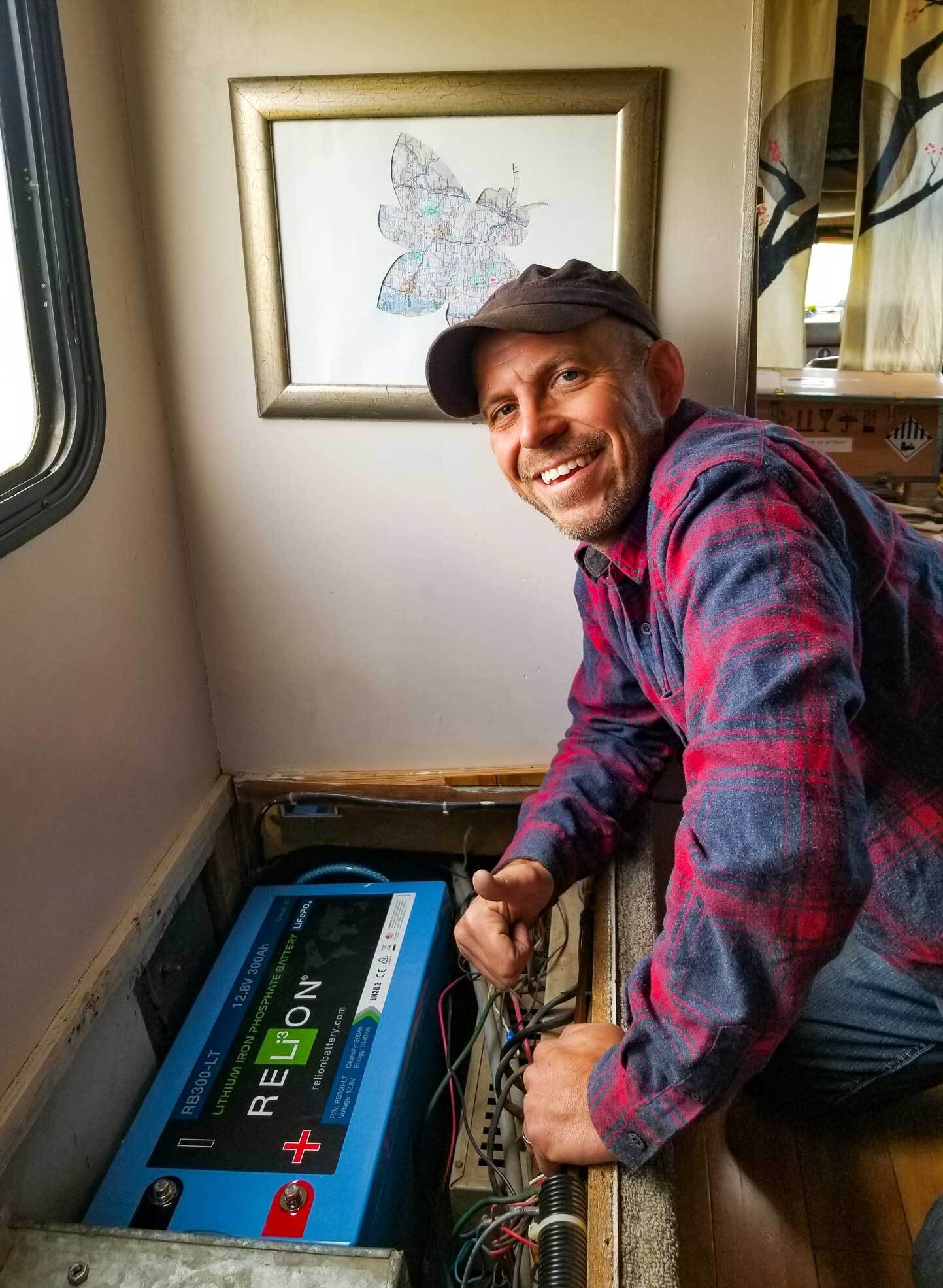 Fully Charge Your Batteries
Depending on where you live, you may have removed your RV batteries from the vehicle for the winter. If you live in a very cold climate, you'll need to reinstall them. If you live in a more mild climate, you'll need to check their charge. Most batteries will lose some juice during storage, so plug in your RV and let them charge up to be ready for the road. Most utilities require batteries to operate properly and you don't want to be stranded without a working power source.
This is also a great time to do battery maintenance, including checking water levels of flooded cell batteries and looking for corrosion. In the process, you may notice that it might be time to upgrade your energy storage system. Lithium RV batteries are a longer-lasting and faster-charging option than lead-acid batteries and allow you to challenge your limits and explore the world with greater confidence in your power system. At RELiON, we have heard from many van lifers and RV enthusiasts that they feel more freedom and less "battery anxiety" using our lithium batteries because of their superior longevity and built-in battery management system (BMS). When you're checking your batteries this season, consider upgrading your system to get the most out of your solar panels and therefore most of your time in nature. To learn more about how to calculate your energy needs and find the optimal battery for your application and usage, visit our Lithium Battery Selector Tool.
Check All Utilities and Safety Mechanisms
To make sure you're spending your time exploring and not bogged down in the shop, check that all your appliances (e.g., fridge, microwave, stove) are in working condition. Turn on all your blinkers and lights and verify that they're working so that you can make sure you're safe while traveling to your destination. Cold weather can lower your tire pressure, so this is also a great time to check your tires and make sure they are filled up to the suitable pound per square inch (PSI) levels.
You should also be sure to check that your smoke alarm, carbon monoxide detector, and fire extinguisher are all functioning properly. Finally, stock up your first aid kit and place it in space easy to reach, in case of emergency.
With that, you should be set to get back out on the road! We hope that your adventures are fun and safe. Please let us know any other key practices you follow to get your RV ready for the spring in the comments below.
If you have any questions on how to convert your RV or camper van to lithium batteries, reach out to our team and we can help.