Having lived fully off grid in their van for four years, and now in their catamaran, Wes and Savana Watts know exactly what it takes to successfully live a self-reliant, grid-free lifestyle. With the last name "Watts" and the fact that Savana spent the first six years of her life on a sailboat, it almost seemed destined that this power couple would form a business dedicated to helping fellow adventurers fulfill their dreams with off grid solar-plus storage systems.
After quitting their corporate jobs and moving into their Mercedes Sprinter van in 2015, Wes and Savana decided to display their newfound home at a tiny house conference in Portland, Oregon. They quickly discovered that their van was the only one outfitted with solar-plus-storage. At the time, Wes was in his third year of university, where he was studying electrical engineering, and realized that there was a great deal of confusion and misinformation among the conference attendees about solar power and batteries. Wes and Savana left the conference with the realization that they could help simplify solar-plus-storage for those looking to follow in their footsteps and live a minimalist lifestyle.
Wes and Savana began testing myriad electrical systems in their off grid van, iterating and innovating each time. They eventually founded Tiny Watts Solar, LLC in April of 2017 and they've been helping like-minded adventurers live out their dreams ever since.

What do you love most about your job?
Wes: "Our clients first and foremost. They all have awesome, adventure-seeking personalities and are chasing their alternative dreams, whether that be van life or to start a food truck business. They're in pursuit of greater freedom and mobility and we're honored just to be a part of that journey. We love hearing updates about where people go with their newfound energy independence. We also really enjoy making solar simple for people. It's the best feeling when we're explaining the electrical system, walking them through their energy use and all of a sudden something just clicks for them. The educational aspect of our work is fulfilling because people feel really empowered when armed with knowledge."
What keeps you motivated?
Wes: "We started our business from scratch. It's our baby. We're 1000% invested and want it to keep growing so that we can have an even larger impact and help more like-minded people fulfill their dreams of living a minimalist and adventurous lifestyle."
What's been the most rewarding part of starting your own solar-plus-storage business?
Wes: "We love being able to call the shots - from the design and engineering to working directly with clients. We're involved in every aspect of the business. We therefore have no limitations from higher authorities and no unnecessary red tape or bureaucracy, which enables us to iterate and innovate to continually improve and provide even better products and services to our customers."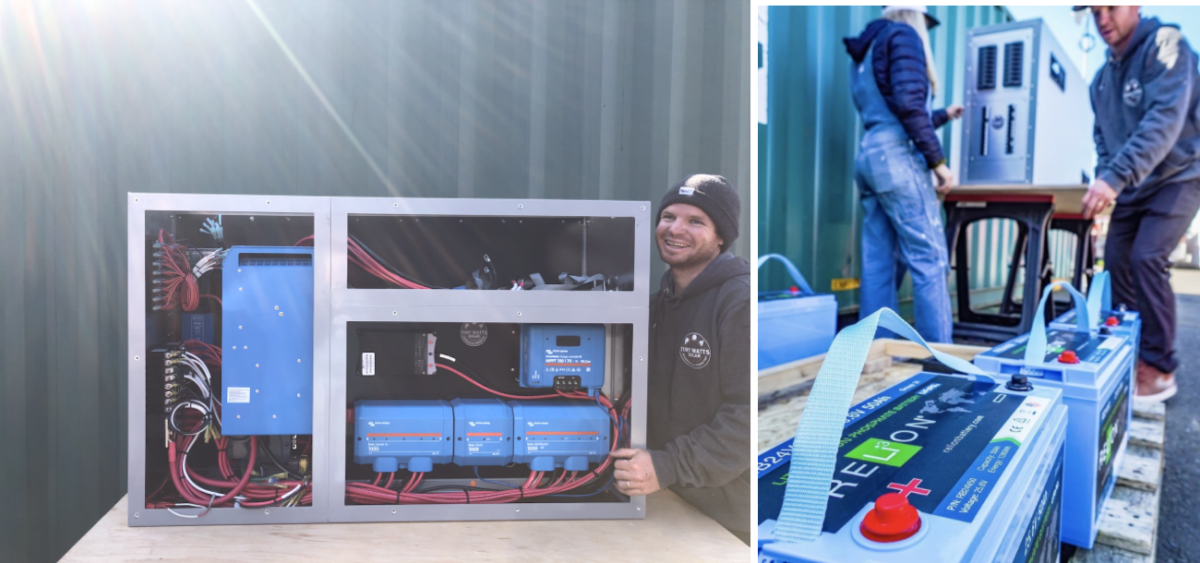 You provide some great pre-wired solar-plus-storage kits. Why should someone choose a kit over buying the equipment individually and putting it together on their own?

Wes: "A lot of people think they have the technical aspect figured out. They find the best components, but miss everything in between. Solar-plus-storage systems are an investment, and if you don't choose the right circuit breaker or the right sized wire, for example, the system could catch on fire. I have seen this happen many times before. Knowing that you're getting a safe, all-inclusive, fully designed, tested and pre-wired kit with an easy on and off switch is a great feeling. Our kits remove about 75-80% of the labor, which saves a lot of time and stress. We've simplified solar-plus-storage for people by making these kits as plug-and-play as possible."
What are the different sizes for your solar-plus-storage kits?
Wes: "We offer two pre-wired solar-plus-storage kit sizes, the Full Send Kit, which is designed for those who want to be off grid full time, and the Weekender Kit, which is designed for those who are out for a long weekend or simply don't require as much power to live comfortably.
The Full Send Kit comes with three RELiON RB24V100, 25.6V, 100Ah, 2560 Wh lithium batteries for a total of 7,680 Wh of energy storage, a 5000 W Pure Sine-wave Inverter/Charger, a 70 A Maximum Power Point Tracking (MPPT) Charge Controller, a 50A alternator charger for charging while driving, and a Tiny Watts Solar Pre-Wired Power Center.
The Weekender Kit comes contains the same equipment as the Full Send Kit, except it comes with three RELiON RB100, 12.8V, 100Ah, 1280Wh lithium batteries for a total of 3,840 Wh of energy storage - which can be expanded to 5120 Wh, and a 3000 W Pure Sine-wave Inverter/Charger."
What makes your pre-wired solar-plus-storage kits unique from other kits?
Wes: "The main difference is the size of power they can deliver. These kits include a RELiON energy storage system that is 10x as powerful as that which is off the shelf. With these kits, you can run anything that you run in your house, from a blender to an induction cooktop, right in your van, boat or otherwise."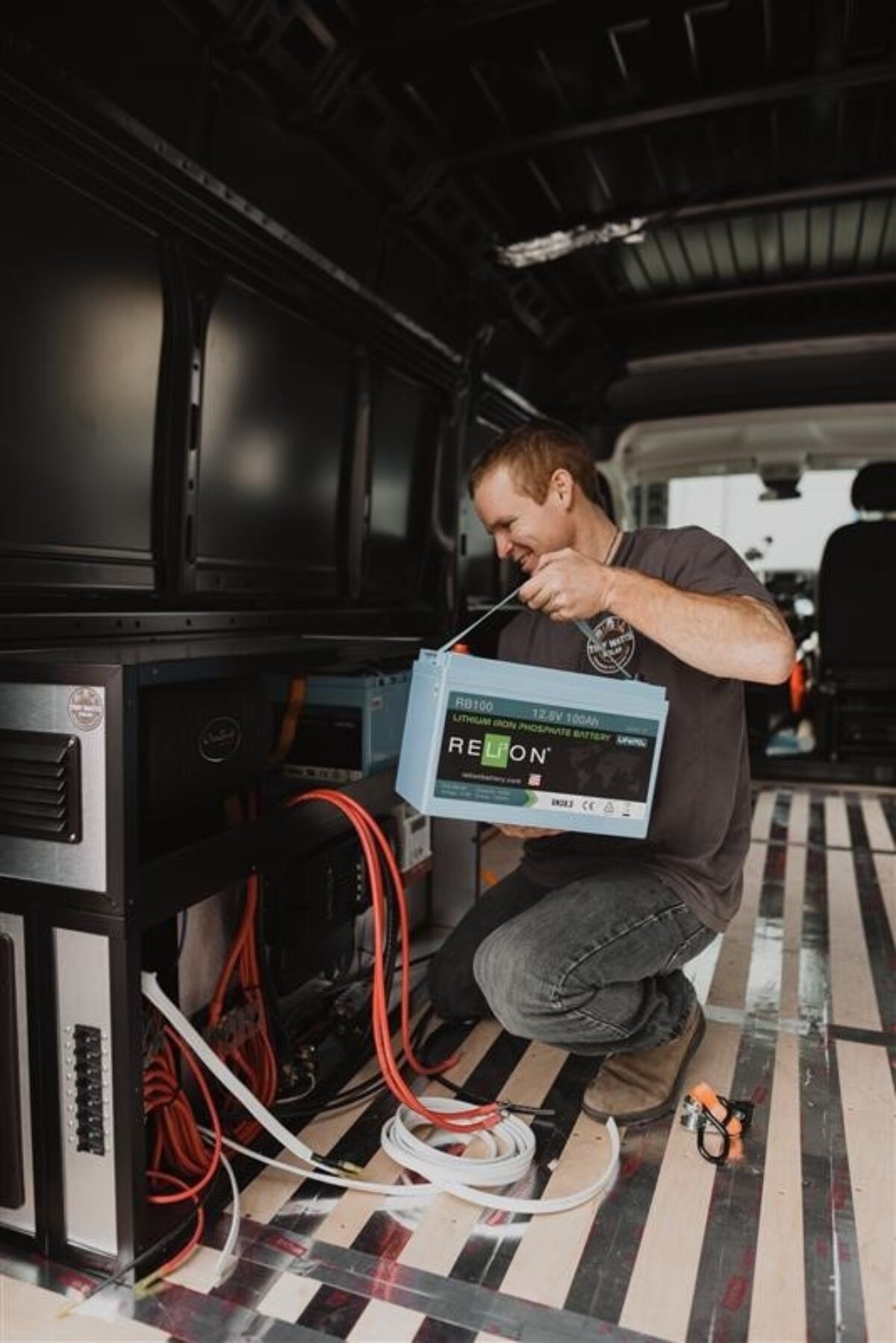 Why do you recommend lithium batteries and include them in your kits?

Wes: "We don't use lead- acid batteries anymore. We strictly offer lithium batteries and strictly RELiON lithium batteries due to their greater performance, weight savings, wider temperature range, and much longer lifespan. People often place giant lead- acid battery banks in their vehicles thinking they have a lot of power, but lead- acid batteries can't deliver high amperage loads (e.g., a toaster oven) without being exhausted. Lead- acid batteries need to be immediately recharged afterwards, otherwise you're risking permanent damage. Lithium batteries, on the other hand, can pack that punch. Lithium batteries are like the unfazed triathlete who is ready to do it again without the consequence of permanent damage. Also, lead- acid batteries can generally only be discharged up to 50%, unlike lithium batteries. So right there, you already need two lead-acid batteries to make up for a single lithium battery, which translates to space and weight savings. Lastly, people are sometimes turned off by the upfront cost of lithium batteries, however, you don't have to replace lithium batteries every three to five years like you do lead- acid batteries. The RELiON lithium batteries we use can last you ten years."
Why do you only offer RELiON energy storage solutions?
Wes: "RELiON has so many energy storage offerings for voltage and capacity, which is especially great if you have space constraints. RELiON was also one of the first lithium battery manufacturers in the game for the mobile market. Their engineering team has been developing its Battery Management System (BMS) for many years now. We tried out many different lithium batteries, including in our own van. We had some issues with other manufacturers' BMS's that led to us having to return batteries. We've never had a problem with RELiON batteries and we've installed countless RELiON systems."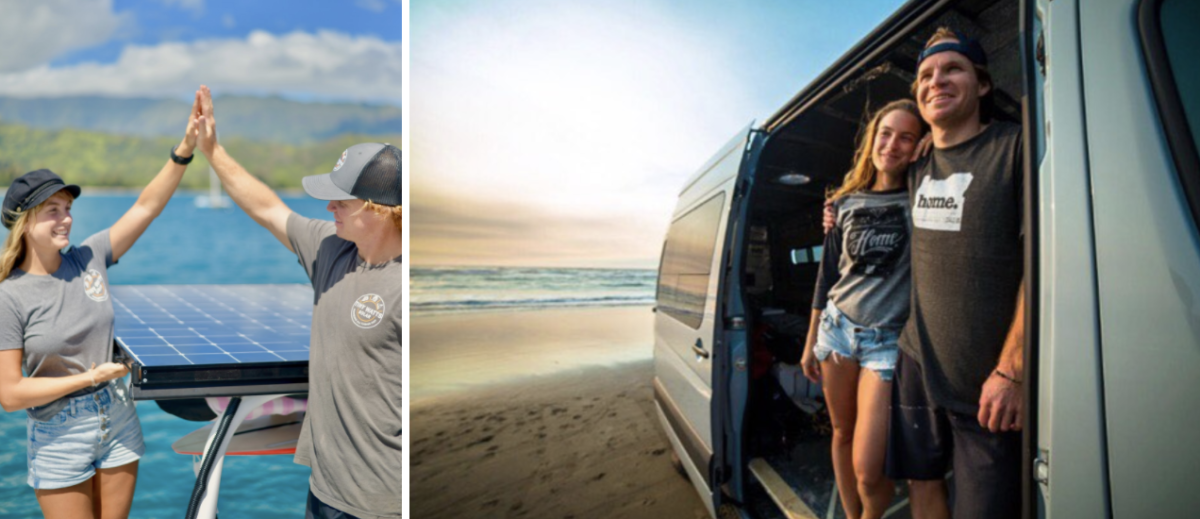 Do you foresee a lot more people making the switch to live in off grid solar-plus-storage vans or boats in the coming years?

Wes: "Definitely. Even more people will pursue this lifestyle as a result of COVID-19 and the current economy. It's about experiencing new things over money and houses with white picket fences. It certainly comes with its financial benefits. We didn't pay rent for four years while living in our van, all while exploring nature and enjoying an adventure-based, alternative lifestyle. It's a no brainer."
What's the most important advice you can give to people?
Wes: "The best part about life is you can do whatever you want. The hardest part is figuring out what that is. Once you determine what you want, go for it. Live your life how you want to. We didn't know how to start a company. We just figured it out. Stay optimistic and your dream will come true."
---
Wes and Savana recently completed a multi-month long trip at sea on their new solar energy plus RELiON energy storage powered catamaran all the while heading full steam ahead with their business. Due to high demand, they've recently scaled up their business by adding on a manufacturing team and are planning to offer additional, smaller, pre-wired solar-plus-storage kits soon, so stay tuned.
To follow them on their journey via Instagram: @sailingswell, @our_landyacht & @tinywattssolar.