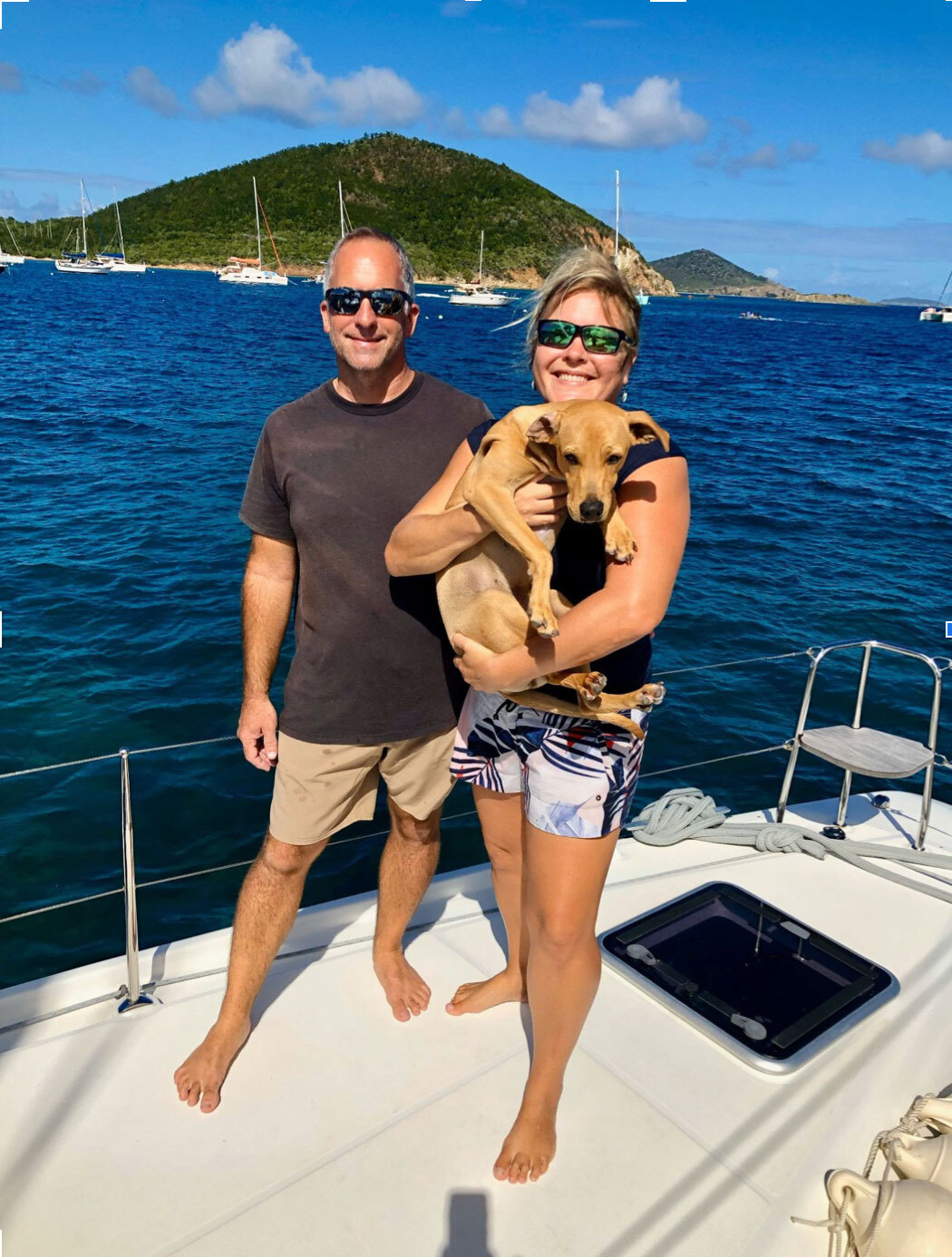 Adding to their repertoire of canyoneering, white water rafting & four-wheeling, Kate and Cryrus chose three years ago to embark on the ultimate adventure: living and traveling fully off grid on their catamaran. Shortly after completing the Bob Marshall Wilderness Open, which covers 100 miles of Grizzly Bear-infested Montana forests on foot, the couple was determined to find a way to keep their outdoor adventures going without always having to return to the nine-to-five workweek.
Cyrus, a former industrial engineer, and Kate, a former graphic designer, are both U.S. Coastguard Captains and Professional Association of Diving Instructors (PADI) certified. Kate began sailing in the Caribbean with her father at the ripe age of four and Cyrus grew up sailing and deep sea fishing with his father off the coast of Cape May, New Jersey. Given their mutual love of adventure and being on the water, it seemed destined that the couple would form their business, CruiseNautic, which creates and hosts custom charter trips across the globe. From diving and dive instruction to paddle boarding to entertaining with their musical and culinary talents as well as their loyal first mate, Cocoa Salty Paws, CruiseNautic has it all when it comes to crafting unforgettable experiences for their guests.
The only thing holding Kate and Cryus back from offering the most unencumbered trips for their guests was their energy system. They were using high maintenance gel lead acid batteries that would continually run out of energy on their Lagoon 42 catamaran. We recently spoke with Kate and Cyrus to learn about how their transition to lithium marine batteries has been, their favorite part about sailing 24/7, and some of their top sailing destination recommendations.
Was it Worth Converting To Lithium Batteries?
"Given that our livelihoods depend on our energy system when we are miles at sea - from our navigation to our fresh water, RELiON lithium batteries have been one hundred percent worth the upgrade. We now have half the batteries that boast twice the power with half the weight. Also, as we work in hospitality, we can rest easy knowing our RELiON batteries can handle whatever comes our way and stay charged even in the most challenging conditions. There really is no comparison to the lead acid batteries we previously used and we could not recommend RELiON batteries more highly."
Cyrus and Kate's Lagoon 42 boat is now powered by a 1600 watt solar energy system, two long-lasting RB300-LT 12V lithium deep cycle batteries that are good in cold weather, one Magnum 3000 watt inverter, and three Morningstar Tristar MPPT solar charge controllers. This robust lithium battery powered solar system powers their navigation equipment, lighting, three refrigerators, one freezer, a fresh water maker, a washer/dryer, a smart TV, plenty of cooking gadgets such as a rice maker, mixer and blender, an espresso maker, a coffee grinder, computers, and camera gear.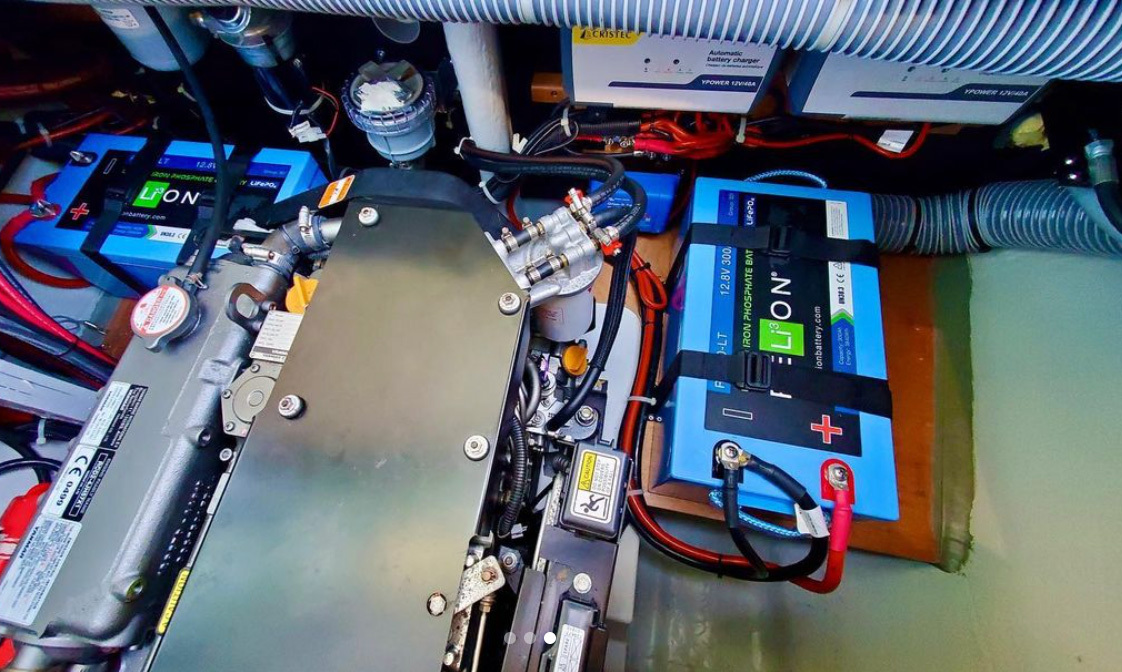 What has been your favorite part about fully off grid catamaran life?
"Our revolving backyard of ever changing views and adventures. We have traveled across the Atlantic to France, Spain, Portugal and the Canary Islands, regularly travel throughout the Caribbean, and it never gets old. For example, one of our favorite memories was spotting a large pod of Minke whales that dove below and passed near the boat when we were sailing off the Bahamas between Samana and Crooked Island - all while we were riding some of the biggest seas we have seen to date."
What are your top sailing destination recommendations?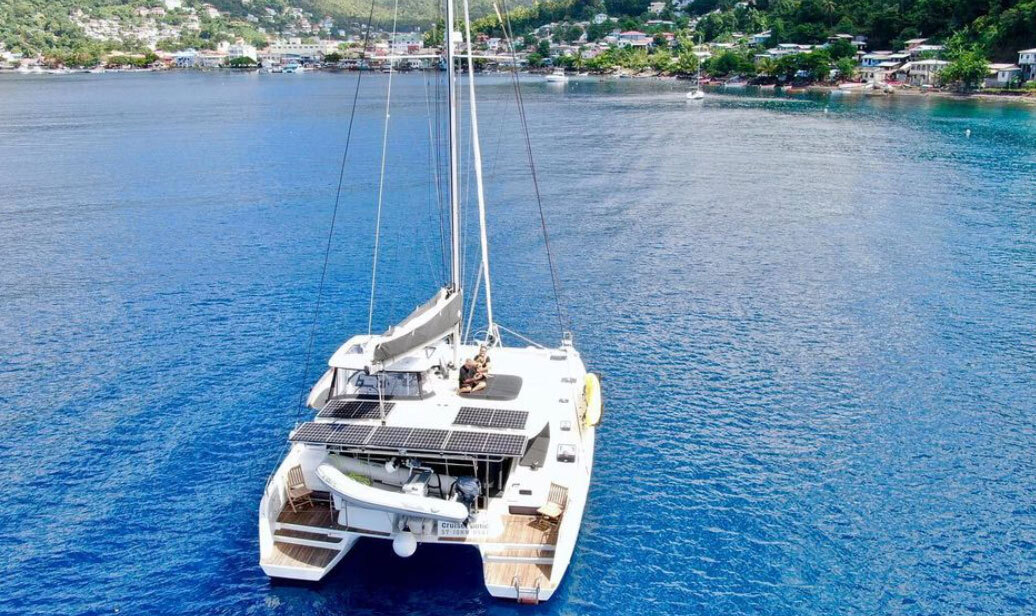 "We would have to say Gijon, Spain as well as Guadeloupe and the Saintes. Gijon is the quintessential vision of old world, European ports and is surrounded by a majestic landscape. Located in a marina tucked into the center of the cobblestoned town, the warm welcome from the locals did not disappoint. We enjoyed easy access to its lively bars and restaurants that boasted delicious tapas, wine and of course their signature Cider complete with cider pouring theatrics. We also recommend Guadeloupe because it offers the perfect combination of adventures on land and sea, including the highest volcano and one of the highest waterfalls in the Caribbean, in addition to one of the French explorer Jacques Cousteau's favorite dive sites. A sail to the Saintes is also a must when visiting Guadeloupe, as this quaint island escape offers hidden gems including a five star restaurant cooking up French food with a twist that you will not soon forget."
Do you have any advice for those considering sailing full-time?
"For those that have not upgraded to a fully off grid lifestyle, it is truly worth the investment. The experiences and freedom you gain with an off grid home is the best investment we have ever made."
Thanks to solar power and upgrading to long-lasting RELiON lithium batteries, Kate and Cryrus no longer have to worry about whether they will have enough energy for crucial items like their navigation and fresh water system when miles at sea. Also as a result of their solar-plus-storage system, these digital nomads can rest assured that their business will stay powered and their guests will remain satisfied. Follow along with CruiseNautic's latest voyages on Facebook, Instagram, and Youtube for the best ideas for your next trip. Love sailing pups? You can also follow Cocoa Salty Paws on Facebook and Instagram.
To learn more about how to calculate your energy needs and find the optimal battery for your application and usage, visit our Lithium Battery Selector Tool. If you have additional questions on upgrading your sailing adventures to RELiON lithium power? Contact our Tech Experts for more information.