Long-term RV nomadic living has significantly grown in popularity in recent years. A lot of people jump into the lifestyle to see beautiful landscapes, lower their cost of living, and add a little more excitement to each day. However, without taking certain precautions to make sure this lifestyle suits all of your needs, it can be more trouble than it needs to be. To avoid burnout, make sure that your RV is equipped with the comforts that make your life on the road much easier. Below, we've compiled a list of things you can do to make your RV lifestyle as sustainable and enjoyable as can be.
Take your RV for a full maintenance check before you embark on your next trip.
Outfit your RV with outdoor essentials and equipment.
Take a practice trip.
Build effective storage systems.
Set up a reliable & long-lasting energy system.
Prioritize energy efficiency.
Properly insulate your RV
Plan out your water use.
Set up an emergency kit and plan.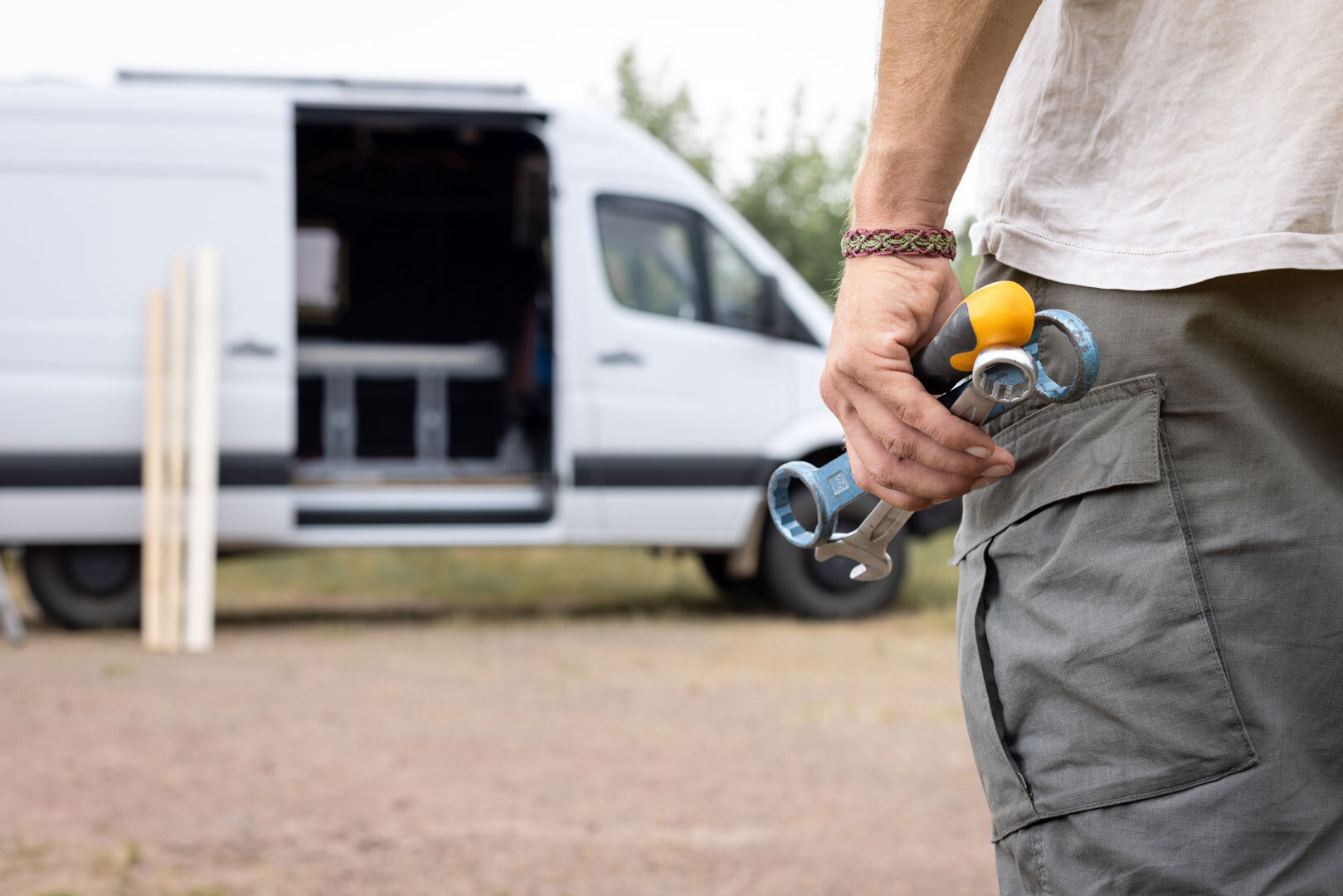 Check your RV for Any Maintenance Needed
The small inconveniences can make or break your trip. To prevent having to stop for low tire pressure, oil changes, or engine problems, head to an auto shop to make sure there aren't any underlying issues with your RV before you take off on your journey. Additionally, make sure you install a tire pressure monitoring system so you can track your levels right from your phone.
Outfit your RV
Outfit your RV with equipment that allows you to fully enjoy the outdoors. A camper can feel small after a while, especially when living in one long-term. Spending as much time outdoors as possible can help keep those feelings at bay, so bring sturdy and lasting outdoor furniture, and even a portable fire pit, so that you can take full advantage of the outdoors both day and night.
Practice Makes Perfect
Try living in your RV with your current set up for a little while. If it's not comfortable for a short trip, it won't be for a long-term trip either. Go on a two-week "practice trip" to spend time making sure you aren't missing any appliances that you'll want or need to use regularly. For example, you might realize you don't use the kettle like you thought you would, and you'd much rather have a toaster. These small things will go a long way to reducing headaches and frustration once you make the leap.
Build Effective Storage Systems
Storage can be a major challenge for long-term RV living, given the downsizing it often requires, but there are plenty of solutions out there to help you optimize and maximize your space. Command hooks, built-ins and cubbies are just a few examples of some proven solutions.
Set Up a Reliable Energy System
Don't get bogged down by needing to plug into an external energy system every night - having your own on site, off-grid power can enable you to be completely self-sufficient for months or years at a time. Make sure that you prioritize investing in a top notch solar-plus-storage system so that your boondocking, dry camping or other long-term RV adventures never lose charge, no matter where you are in the world. A solar system will power you through sunny days, and battery storage ensures that your system will be operational when it's overcast as well. The last thing you want to be thinking about while on the road is whether you will have enough energy to last you through each day.
Choosing high quality battery solutions can pay dividends in the long-term. Lithium iron phosphate batteries (LFP or LiFePo4) offer longer warranties, lower maintenance, greater safety - particularly in small, compact spaces, and higher efficiency compared to any other batteries on the market. RELiON's lithium batteries are ideal for those looking to build, or upgrade to, a reliable and long-lasting energy system to pair with a solar array. RELiON's battery variety is unmatched, including its Low Temperature line, which is perfect for those RVers looking to visit colder climates. To learn more about how to calculate your energy needs and find the optimal battery for your application and usage, visit our Lithium Battery Selector Tool.

Prioritize Energy Efficiency
There are many ways to cut down on energy use when on the road: close the blinds to keep heat out, use fans instead of air conditioning, and make sure all your windows and doors are well-sealed. Additionally, converting all your lightbulbs to LED and purchasing more efficient options when outfitting your RV with appliances, like fridges and coffee makers, will go a long way in cutting down your energy use. Utilizing more energy efficienct appliances can also serve to reduce the size of the solar array and energy storage system that you will need.
RV Insulation Upgrades Are Important
Most RV manufacturers poorly insulate campers, which can turn into a huge problem when temperatures drop. If your heater isn't strong enough, it can become frigid in your RV. In addition to keeping you warmer, proper insulation can also help keep energy use down, as the heater won't have to be on high power 24/7.
There are different types of insulation for you to choose from when outfitting your RV. Fiberglass is a great option, but be mindful that you'll have to tear the RV apart to install it behind the walls. Spray foam is the best option to provide seal, but it can be challenging to install. Finally, rigid foam insulation is very versatile because you can cut out the size you need to fit it to any space. There are also varying levels of thickness to consider. If you don't know which option is best for you, consult with a professional to narrow down your choices.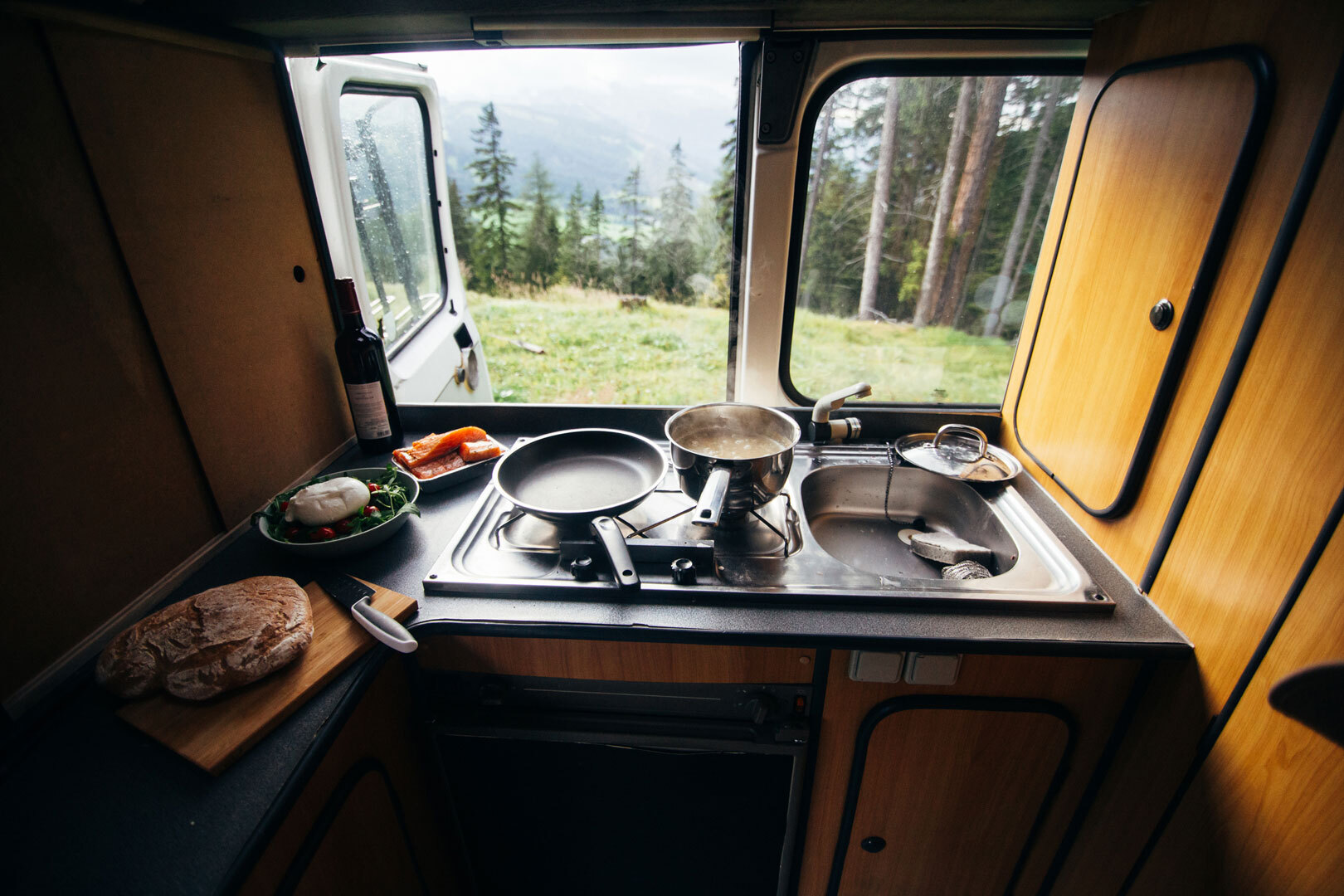 How to Plan Your Water Use Living In An RV
Bring along reusable water bottles and jugs that you can fill up while on the road in order to minimize water use. You can also prepare meals that don't require as much water, take shorter showers, and upgrade your showerhead for one that minimizes water waste while maintaining water pressure to keep water use down. It's important that you don't use too much water so that you can avoid filling up your holding tanks too quickly. Holding tanks are where used water is held. Your gray water holding tank holds water from your kitchen, shower and sink, and your black water holding tank is for sewage from your toilet. If you fill these up too fast, the water stored in these tanks can back up the system. Also, plan to leverage the iOverlander and SaniDumps apps, both of which provide disposal site locations, in order to find a place to dump your water tanks when they are close to full.
Be prepared for Emergency Situations
The day to day of RV living is a life of freedom and beautiful landscapes - but for those moments when something does go wrong, so make sure you're ready if or when that time arrives. Keep one or two additional spare tires accessible in case an emergency happens, particularly when traveling through or camping in remote locations. Also make sure to always have an emergency kit on hand.
With these RV optimization tips in mind, you should be well prepared to embark on your next adventure! Of course, if you need any help with calculating your energy needs or setting up your energy system, contact an expert at RELiON today