Van life offers freedom unlike anything else. Adventures are in travelers' control; where they go and when they go there are dictated completely on their own terms. This lifestyle has become even more popular in recent years, as airplane travel has been complicated by the COVID-19 pandemic and remote work has become commonplace. Travelers can now enjoy an intimate experience with nature and are able to see places off the beaten path more often.
Along with the benefits of accessing remote, beautiful destinations in nature, van lifers can also save a lot of money. People have the option of forgoing rental or housing costs and minimizing belongings, outings, and food costs on the road. Travelers can find work as a blogger, photographer, or entrepreneur which can fund their travels on the go. And for those cautious about their carbon footprint, this lifestyle offers the ability to significantly cut down on their emissions.
Transitioning to the van lifestyle can be daunting at first though, and there are countless things that come up along the way. To help you be fully prepared, we've compiled a list below of what you should consider before jumping in. From outfitting a van to planning out laundry and parking stops, it's important to consider the seven steps we've listed below.
Get a quality van
Plan out your parking situation
Have safety precautions in place
Consider a solar-plus-storage system
Plan your showers, laundry, and dump stations
Downsize your belongings and upgrade your phone plan
Plan out your finances
#1: Get a Quality Van
The most important part of van life is the van itself. Quality must be a top priority when deciding what type of vehicle to invest in. Volkswagen buses are very popular for their aesthetic, but they are much older vehicles and require more maintenance. When traveling in a van full-time, you don't want the hassle of frequent breakdowns that cost you time and money that you could be using to get to your destinations. Investing in newer vans with updated machinery and systems will help you down the line and allow you to make the most out of your trip.
If you are new to vans, it's a good idea to rent one for a week and see what you use and what you don't. Oftentimes, first-time van users think they will use appliances that end up being a waste, or they don't plan for unanticipated needs. Prior to making the purchase, you should also consider what type of terrain you'll be using your van on - this will help determine if you need a 4X4 or a two-wheel drive. You should also consider whether you will be traveling in the winter or to cool climates because you will need to determine how much insulation and heat you need to build in. Finally, if you are planning on diving in headfirst and giving up your home to transition to full-time van life, you may need to either sell most of your belongings or rent a storage unit. Living in a van means you have to drastically downsize your belongings, so building storage into your vehicle can end up being hugely important.
Buying a van is a big investment, and even bigger when you consider how much work goes into outfitting it for your adventures. In such a small space, it's important not to waste an inch. For example, most people think they will need a bathroom, but after the first few months realize that it's easier to find one on the go than they previously thought.
The space must be liveable and enjoyable - it's going to be your home, so making sure that you like being in it, by adding creature comforts, is important. Spending time outfitting it with appliances you use every day, like a coffee maker, and storage, so you don't end up living in a pile of clothes, can go a long way in making your van a home.
#2: Plan Out Your Parking Situation
One of the best parts of the van lifestyle is that every day is an adventure - traveling without an end date truly gives you the freedom to be surprised every day. However, when it comes to sleeping arrangements, it does pay off to plan ahead. There are many types of places to park for the night, including RV sites, paid campsites, and free parks - but no matter how much you plan, you might end up sleeping in a McDonald's parking lot on occasion. RV sites and paid campsites are great because they often have bathrooms and showers, which can be worth the price tag. These sites also give you the chance to connect with other van lifers and swap tricks of the trade. Connecting with like-minded individuals is a great part of the adventure - they can help you with tips for your van and destinations to prioritize on your trips.
The United States is a great place to live on the road because there are so many free parking sites available to van lifers. The vast amount of sites also means there's not as much crowding, and you get to enjoy nature in its true form without all the distractions of dense areas.
If you are traveling alone, it's important to plan out where you are going to sleep for safety purposes too. Last-minute parking can result in risky situations, so finding a safe area where you feel comfortable can be a huge help.
There are plenty of options for campers to use to find campsites, like Campendium, iOverlander, The Dyrt, and Ultimate US Campgrounds. Using these can help you map out your destination so that you don't get lost and can spend more time enjoying nature instead of being lost in it.
#3: Have Safety Precautions
Van living isn't an inherently dangerous lifestyle, but it is important to have some safety precautions in place. Having security cameras or motion-activated lights can help you know what is going on outside the van while you're inside. Make sure to have good locks in place as well. Not much fits in a van, so what you keep with you are pretty much all necessities. If something gets stolen, it can be a huge burden and impede your adventure, so protecting what you have with you is essential.
Dogs can also be a great help. In addition to being great companions and adventure buddies, they can also help protect you and keep you aware of your surroundings. If you do decide to bring your dog with you, just be sure not to leave them in the back of the van when it's hot out. Chances are, they want to be touring around with you anyways, so bring them along as much as possible!
#4: Stay Powered Up With a Reliable Solar-Plus-Storage System
When you're on the road, you need to have a reliable power system - this will keep the lights on and the fridge running even when you're set up in the most remote areas. There are many different ways to set up a power system in a van. Banked power, or energy stored in batteries, is crucial for van lifers because power is often needed most at times when sources are unavailable, like after the sun has set. Solar systems are very popular among van lifers. Solar panels are set up on the top of the van and connected to charge controllers and inverters, which are connected to a battery inside the van. This battery can help power all of the appliances you may need, like fridges, heaters, and coffee makers, and can charge laptops and phones - at any time of day or night. Having a good solar battery is key to making your life on the road comfortable. Van life is characterized by its unpredictability, so having reliable power for those days when the clouds are heavy and the nights are cold will go a long way to making your adventure enjoyable.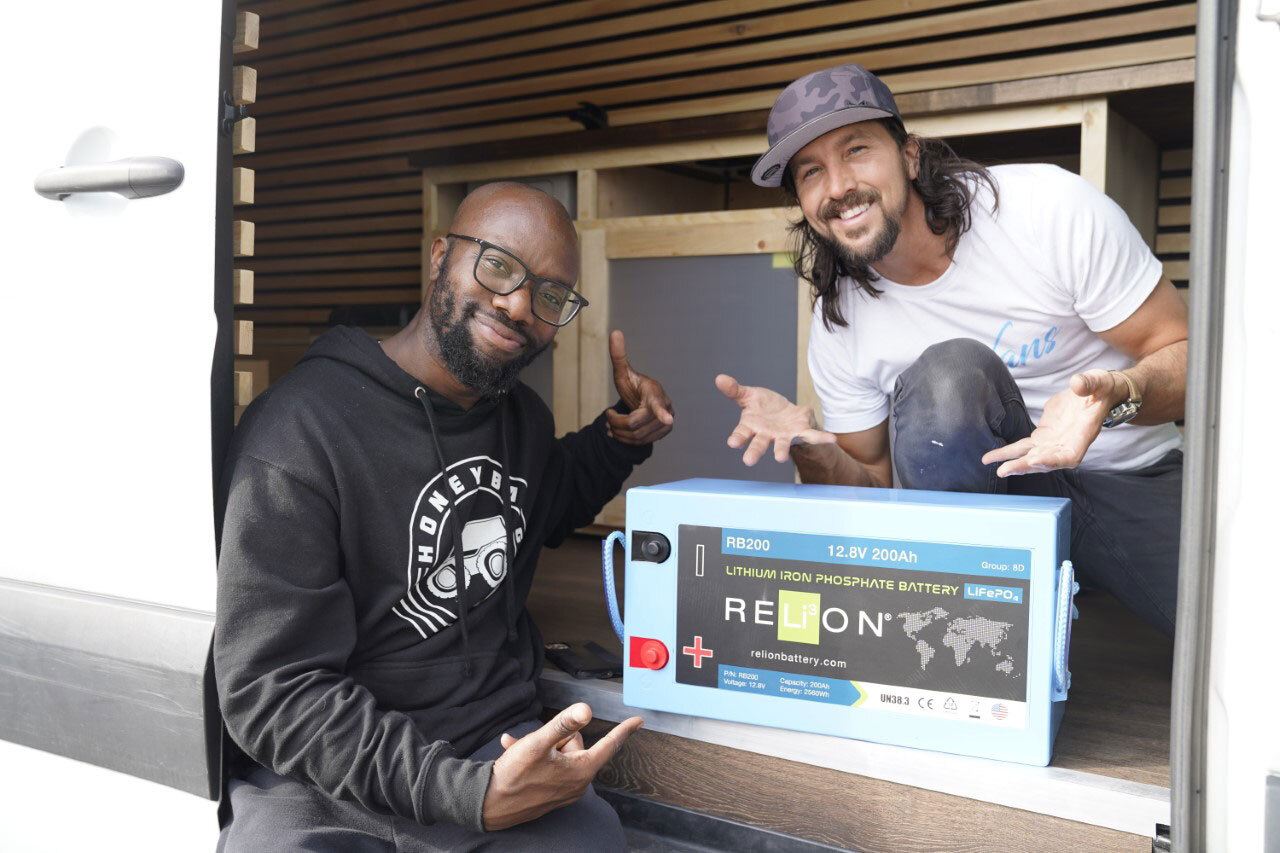 When building your off-grid power system, it's important to consider the most energy-efficient options. When it comes to batteries, it is important to focus on several key aspects when outfitting your power system. For example, you should consider the lifespan of the batteries. Traditional lead-acid batteries have a lower upfront price point, but their lifespan is much shorter than lithium-ion batteries. Lithium iron phosphate batteries, like RELiON, are safe, long-lasting, and fast charging, which means it's rare for you to be left stranded and powerless. Another helpful aspect of lithium solar batteries is that they don't suffer power losses as the day progresses, as they perform very consistently, whether at 95 percent capacity or 15 percent capacity. To learn more about how to calculate your energy needs and find the optimal battery for your application and usage, visit our Lithium Battery Selector Tool.
In this day and age where everybody is connected, Wi-Fi is an important aspect to consider as well. Especially if you plan to work remotely while traveling in your van, it can be necessary for your lifestyle. However, Wi-Fi can drain a lot of your power, so it can be worth it to find a coffee shop or other site with free internet to work and charge up your portable devices before hitting the road again. This will help you maintain your banked power for bigger systems that you don't have another source for. Alternatively, you can choose to invest in a larger solar-plus-storage system so as to maximize your self-reliance.
#5: Don't Forget About the Little Things - Showers, Laundry & Dump Stations
There are many unanticipated needs you'll find along the way, but some of the easiest to plan for are often the most forgotten. Doing laundry will likely look a little different on the road than at home - you'll have to find laundromats or use campsite showers to clean your clothes. Paid campsites often have showers available, so make sure to bring your laundry detergent with you.
You should expect to shower less as well. Try to minimize what you need in the shower, as you'll likely be bringing your shower caddy into public showers. In addition to campsites, a lot of van lifers will have a membership to a gym with locations around the country so that they can easily access facilities. Some gyms can be expensive, but access to their showers and the ability to get in a workout when you need them can be a huge benefit.
Finding fill and dump stations should also be on your radar since you will need to dump and fill your water tank every three to five days, or once the tank is about three-quarters full. This will help with cleanliness and maintenance. These stations should be available at every campsite, but there might also be others that you can find on sites like RV Dump Sites, which lists sites across the United States that you can access.
#6: Downsize Your Belongings & Upgrade Your Phone Plan
Before you embark on your van adventure, there are a few small tips that might make the transition easier. You will probably have to downsize for a bit, especially if you have decided to forgo a permanent home while you travel. Storage facilities are a great tool so that you don't have to toss away or donate the belongings that you can't fit in your van. However, if you decide not to get rid of your home, you can also rent it out so that your costs go down while traveling. Additionally, a good tip is to rent it to someone you know and trust, so they can keep you up to date in case there's an issue and you don't have to worry.
You should also talk to your phone provider before you go about your plan. Unlimited data plans are common now, and the prices aren't as high as they used to be. This type of plan might be worth it on your travels so you don't always have to be on the hunt for Wi-Fi. Additionally, a lot of plans now come with the option to create your own hotspot from your phone that other devices can connect to. This is a great option for people who work remotely in their vans, especially on days in which you are too far from the nearest coffee shop.
#7: Finances Are What You Make Them
A lot of people become van lifers because it offers them the ability to see a lot more of the world for a fraction of the cost. Indeed, it can be a cheap lifestyle. Depending on where you decide to spend your money, van life is as cheap as you make it. The biggest expense will likely be your van. A quality van can cost between $35,000 and $45,000, and properly outfitting it can add another $10,000-20,000. After that, the decisions are yours. Monthly expenses largely depend on what you are doing with your home, if you are making money off of renters, and how much you decide to drive. Gas bills can vary month to month depending on your lifestyle and where you want to go.
Additionally, where you park will also affect your budget. Paid campsites can run you anywhere from $450 to $900 a month, depending on the rates. You can avoid that by dry camping or boondocking and finding free sites. Planning ahead can also help with fuel efficiency, cutting down further on gas.
Other decisions can end up having an impact as well, like how much you cook at home, how many subscription services you pay for, and maintenance costs. Investing in quality products in your van upfront can drastically cut down on the time and fees you have to spend on maintenance down the line. A high-quality van and power system will support you in all your endeavors and allow you the freedom to make the most out of your new lifestyle.
Van life offers people the chance to see the country in ways that other types of travel simply can't. Van lifers have complete control over where they want to be, they can work remotely, and they are able to have a more intimate experience with nature. The decision to invest in a van and change your lifestyle completely can lead to great adventures, but you need to make sure you are properly prepared for the changes it brings. If you need any assistance setting up your power system to keep you connected on the road, make sure to connect with one of our team members and we will be happy to assist you.