The enhanced battery is the first lithium-ion starting battery to be evaluated and approved for use with select Mercury outboards
Menomonee Falls, Wis. (January 25, 2023) – RELiON® Battery, a global leader in the development of lithium batteries, today announced the launch of its enhanced RB100-HP lithium battery, a Group 31 12V, 100Ah deep cycle lithium-Ion battery built for starting and cycling of marine and RV applications.
"We are happy to offer users an enhanced version of our RB100-HP battery and continue to provide the power they can rely on," said Eric Lindquist, VP and General Manager, Power Systems at Navico Group. "Our talented product team was thoughtful in the development of this battery, not only in enhancing the features, but also making sure it met all the specific requirements needed to be approved for use with select Mercury outboard engines."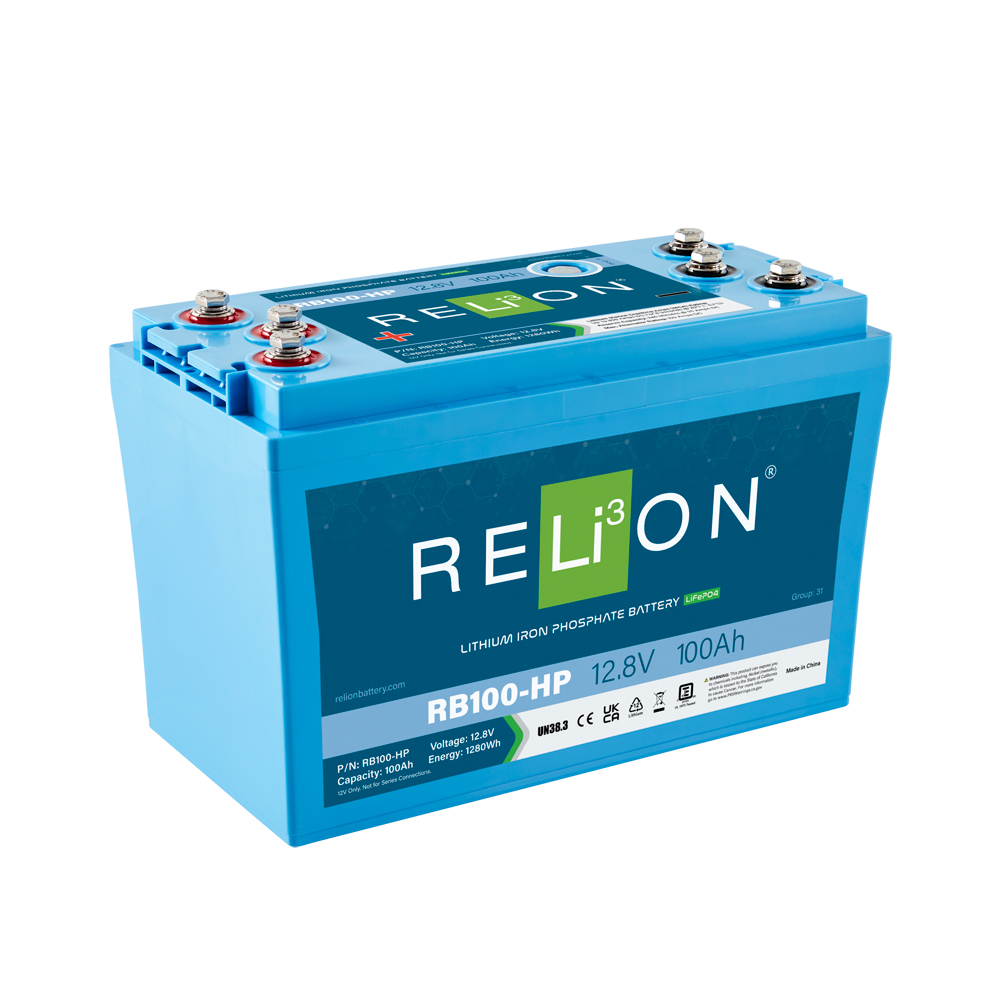 The new RB100-HP has increased peak amps for starting motors, electric start generators, and other high-amp-draw devices. It also doubles as a house battery, powering peripherals, accessories, and more. The new enhanced version features six terminals versus the two on standard batteries, offering users more flexibility when connecting electronics to the battery.
The battery includes an IP67 ingress protection rating, which completely repels dust and resists water ingress for up to 30 minutes submerged at 1 meter. Other improvements include an atmospheric vent added to the top of the case that equalizes pressure while preventing contaminants from entering the battery; a glue channel to ensure IP67 seal; screw latched closure to ensure seal longevity; and tied a rope with handle guides that replace ultrasonically welded straps to improve durability.
One of the most exciting benefits of the new RB100-HP Battery is that it is the first starting battery to be evaluated and approved that meets all the requirements for use with approved Mercury outboards. The models approved for use with the RB100-HP include:
2.1L 75‑115hp FourStroke, Pro XS® and SeaPro™
3.0L 150hp FourStroke, Pro XS and SeaPro
4.6L V8 and 3.4L V6 175‑300hp FourStroke, Pro XS, SeaPro and Verado®
2.6L L6 200‑400hp Pro and Verado
7.6L V12 500‑600hp SeaPro and Verado
5.7L 350 and 400hp Verado
All Mercury Racing® outboards
The RB100-HP is priced at $1,159.95 and is available on the RELiON Battery website: relionbattery.com.
RB100-HP Key Features:
Features six terminals allowing users more flexibility in connection
IP67 rating, protecting from dust and water
Meets all requirements needed to be used with select Mercury Marine outboard engines
Improved durability and design to ensure the longevity of the battery
For more information about the new RB100-HP or RELiON's portfolio of lithium batteries, visit relionbattery.com.
###
About RELiON Battery
RELiON is part of Navico Group, a division of Brunswick Corporation, (NYSE: BC), and is a global leader in lithium batteries powering a range of applications including recreational vehicles, marine, solar-powered solutions, and more. The company is on a mission to power the world's transition to lithium energy storage, ethically. RELiON helps customers challenge and overcome their limits by offering a range of high-quality battery products that continue to pave the way forward to a greener and more efficient future for energy storage. The company is dedicated to giving back by donating one percent of annual revenue to environmental causes through its 1% for the Planet membership. For more information about RELiON, please visit relionbattery.com.
About Navico Group
A division of Brunswick Corporation (NYSE: BC), Navico Group is the world's leading supplier of integrated systems and products to industries ranging from marine to recreational vehicles and beyond. The Navico Group portfolio is comprised of industry-leading brands in power management, digital control & monitoring, networked devices, and marine electronics. Some of the many brands that make up Navico Group include Ancor, Attwood, B&G, BEP, Blue Sea Systems, C-Map, CZone, Garelick, Lenco, Lowrance, Marinco, Mastervolt, MotorGuide, Progressive Industries, ProMariner, RELiON, Simrad, and Whale.