From Lynyrd Skynard's Ricky Medlocke to the famous fisherman Roland Martin to the country singer Travis Tritt to the Nascar driver Ryan Newman, Gerry Brousseau has fished with a wide range of American stars. Most importantly though, his jovial personality and ability to form strong relationships enabled him to flourish through his volunteer work with Fish to Make a Difference (FTMAD). A nonprofit on a mission to bring the fishing community together to provide necessary healing for critically ill children, FTMAD is also one of the many organizations Gerry provides filming services for. When he's not volunteering for FTMAD or filming, Gerry operates his fishing guide business as well as leads seminars for companies like Bass Pro Shops throughout Florida.
Gerry recently made the switch to lithium batteries to ensure that he would have consistent and reliable power twenty-four-seven while filming out on the water. We spoke with him about his transition to long-lasting RELiON lithium batteries, how he came to be close friends with Roland Martin, as well as what he loves most about his work.
Gerry's power system includes:
Three long-lasting RELiON RB100 12V lithium batteries power the trolling motor on his 2021 Ranger 521L boat. His fourth RB100 battery powers all of the electronics on his boat, including four Lowrance units and a Lowrance ActiveTarget Live Sonar System.
Why Gerry switched to lithium:
"We needed a lot of battery power and could save a ton of space and about half the weight with a RELiON battery bank compared to heavy lead acid batteries. We also grew tired of the significant power drop off that we had to endure with lead acid batteries as each day went along, especially in Florida, where we have weed-infested lakes and heavy vegetation that take a large toll on trolling motor batteries."
Why Gerry chose RELiON:
"RELiON has been around for quite some time and has a strong reputation within the fishing industry. They truly stand behind their products and are always available to answer any questions I have had. I chose RELiON because they're a top brand in the market and I couldn't put my work at risk with a subpar system that would inevitably break down."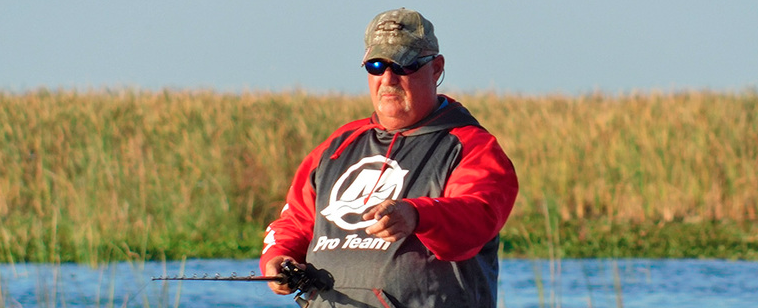 How Gerry's lithium system helped him challenge his limits:
"We used to only be able to fish for a day at a time before having to charge up our lead acid batteries again. However, with our RELiON battery bank, we can often film and fish for three days without having to recharge them. The RELiON system is also more consistently powerful throughout the day and night. We have a lot of lights on our boat that our RELiON system powers, as we can now reliably power our filming equipment without reduced lighting or having to head back home early due to low power. Most recently, Roland and I filmed during the day on the boat, took a trip to grab something to eat, and then continued filming during the night, totaling over eighteen hours on the water, and we still had plenty of power left on our boat for the coming days."
How did you come to be friends with Roland Martin?
"I met Roland after I moved from New Hampshire to Florida and started fishing in local tournaments there. Roland asked me if I wanted to start filming with him and we became a team at tournaments, which eventually led to the Florida Venture Quest shows that we filmed together."
What's your favorite part of your work?
"As I've gotten older, I have really come to love dealing with kids and helping to open their eyes as to what the sport of fishing is all about. We often catch the fish, photograph them and then release them and it's always worth it to get to see the giant smiles on their faces. Some of these kids have also gone on to fish on their high school teams and on club teams, which is always rewarding to see as well."
Learn more about Fish to Make a Difference, check out Gerry's website to learn about his tournaments and work as a fishing guide, and connect with Gerry on Facebook and YouTube to keep up with his latest adventures.