From meeting at a rodeo in Illinois almost 25 years ago to horseback riding to ATV-ing, and most recently, boondocking together, it's clear that Jerry and Kelly are well-matched, given their shared passion for outdoor adventures. As they are nearing retirement in the coming few years, Jerry and Kelly decided to sell their horses, invest in ATVs, and upgrade their travel trailer into a solar-powered boondock camper so that they could eventually live long-term off the grid while exploring the best four-wheeling trails the U.S. has to offer.
While they have already camped in the majority of states on both coasts of the country, as well as the top national parks like Yellowstone, their travels are just getting started. Before they retire and take the plunge to long-term boondocking, Jerry and Kelly wanted to be certain they were completely prepared for the challenges that come with living off-grid out of an RV 24/7. After their first few camping trips with their travel trailer, they quickly realized that the RV solar kit paired with the standard lead-acid batteries that came with their trailer didn't come close to meeting their energy needs for even a couple of days without unexpectedly running out of power. We recently spoke with Jerry and Kelly about why they will never look back after they converted their RV to lithium batteries, their favorite part about boondocking, where their next adventures will take them, and their best boondocking tips.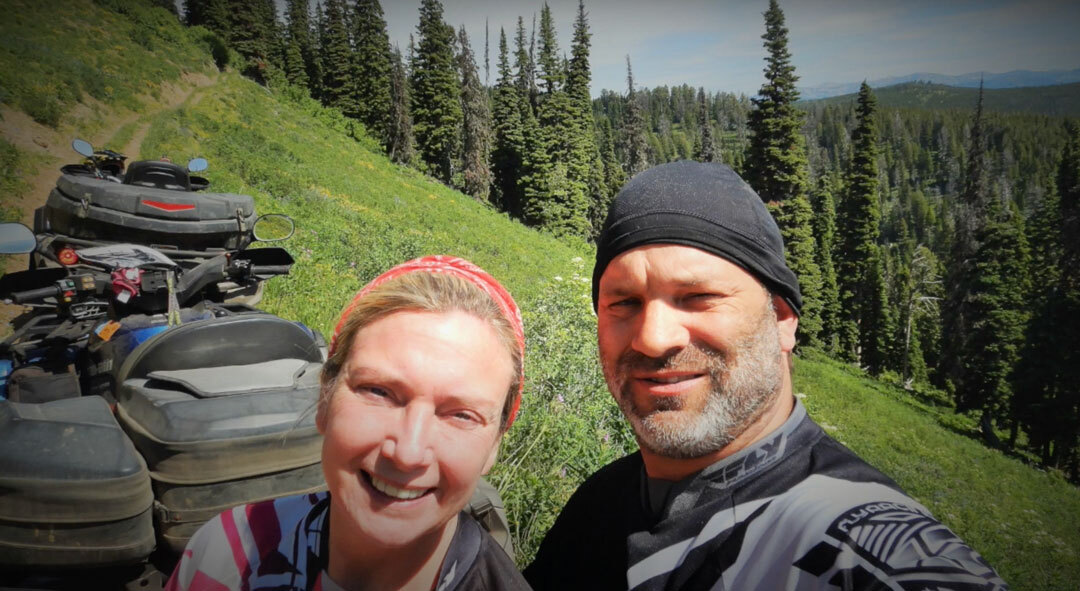 What has it been like to upgrade to RELiON lithium batteries?
"They have been a complete game-changer. We were nowhere near being able to boondock with our lead-acid battery that came with the trailer, but now we boondock on every trip for at least four or five days, with plenty of energy leftover. Particularly given the increase in people camping since COVID-19 hit, we are so thankful to finally be able to enjoy the peace and quiet that comes with having entire areas to ourselves. We wish now that we didn't wait so long to upgrade our lead-acid battery. While the initial price was higher for the RELiON lithium batteries, they will far outlast any lead-acid batteries, so it's totally worth it in the end, especially when factoring in lead-acid battery replacement costs over the years."
Jerry and Kelly's Rockwood Windjammer travel trailer, pulled by their Ford F-350 Dually, is now powered by a 630-watt solar energy system, two long-lasting 12V 300 Ah RB300 batteries, one 2000 watt KRXNY inverter, and one Victron MPPT 150/70-TR Charge Controller. This robust system powers their latte machine, television, multiple fans, and all outlets for electronic devices. They will also be adding a refrigerator soon. Their energy system also includes a Victron BMV-712 Smart Battery Monitor, which allows for wireless communication between products and remote viewing of the batteries' voltage, current, energy consumed, and energy remaining.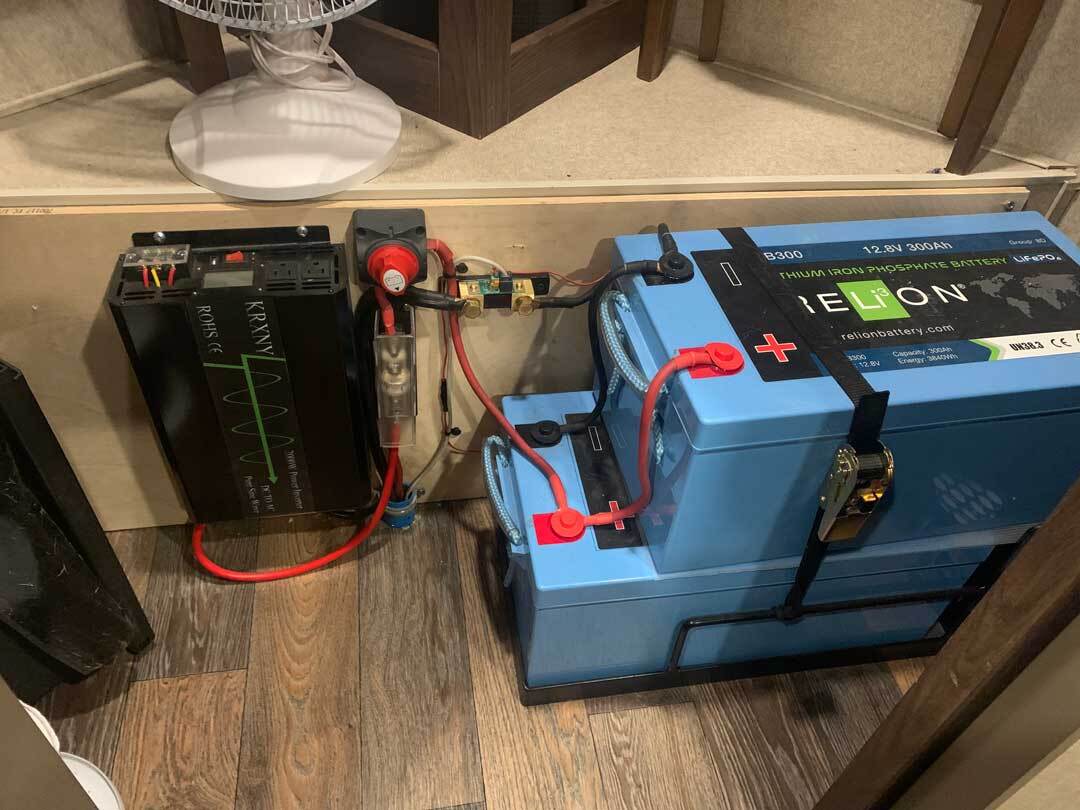 What has been your favorite part about the off-grid RV life?
"We have thoroughly enjoyed being able to get away from all of the camping crowds and enjoy the solitude, peace, and quiet that comes with off-grid RV camping. We especially love little surprises like wildlife approaching our camper. We woke up the other morning to four elk outside the back window of our trailer. As a result of being so remote, we also almost always have four-wheeling trails all to ourselves."
Where do you plan to camp and go four-wheeling next?
"We have too many places to list that we plan to travel to long-term, but in the near term, we're planning to go to Little Sahara State Park in Oklahoma to ride in the sand dunes. We will then boondock in Phoenix and venture out around there to find the best four-wheeler trails. We also will forever love the Tetons, northern Idaho, and West Yellowstone, as we are certain we will be back to all three of these again soon."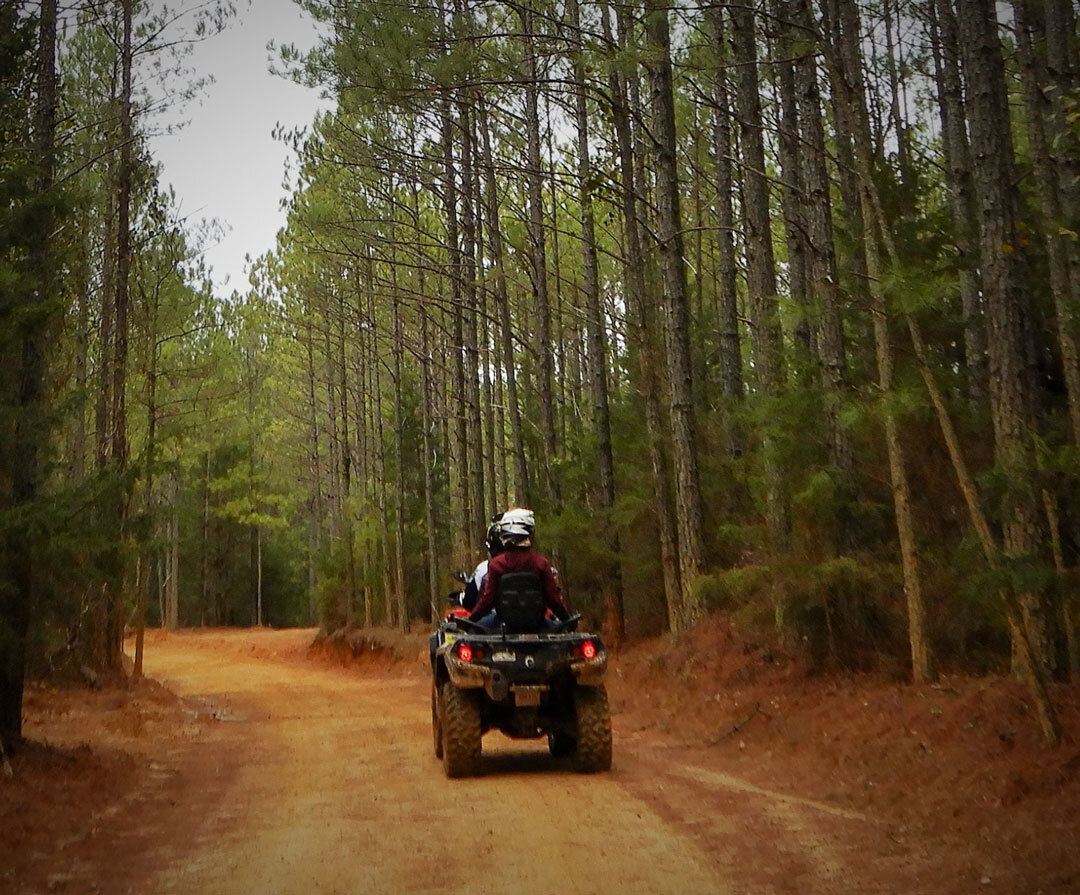 What are some boondocking tips for newcomers?
"The most important things you will need to do are: determine your energy needs early on and purchase equipment accordingly; learn how to manage holding tanks; and conserve water. We are kicking ourselves for not upgrading to RELiON lithium batteries much sooner, as they have more energy density in a smaller package and can be discharged much more deeply than lead-acid batteries, which translates to far more usable power on a daily basis. Making sure you have adequate energy storage for days on end is critical."
Thanks to solar power and upgrading to long-lasting RELiON lithium batteries, Jerry and Kelly can finally boondock for a week or more and no longer have to worry about whether they will have enough power to last them through the day. They can now focus fully on living in the moment, relaxing and spending as much quality time together as possible. Looking for inspiration for your next adventure? Follow along with Gallion Adventure's latest travels on Facebook, Instagram, and Youtube.
If you want to learn more about how to convert your RV to lithium batteries, contact our team and we will be more than happy to help you get started.